Lymphoblastic transformation test
"The lymphoblastic transformation technique is available in very few centers, as it is a complex technique to perform".
DR. MARÍA JOSÉ GOIKOETXEA LAPRESA SPECIALIST. ALLERGY AND IMMUNOLOGY DEPARTMENT
The lymphoblastic transformation test (LTT) is a technique used in delayed allergic reactions. Specifically, it studies the proliferation of T lymphocytes, responsible for this type of reaction, after being stimulated with drugs.
The LTT is an in vitro technique carried out in the laboratory with blood extracted from the patient and allows us to know the response of the immune system to certain drugs and to avoid oral provocations.
It allows the analysis and quantification of cell proliferation after drug stimulation.
When is the lymphocyte proliferation test indicated?
The great advantage of this technique is the possibility of delayed allergy response to any drug and assess the sensitivity to food, making it a good complement to skin testing and / or epicutaneous.
In addition, it is a very useful tool when deciding when to perform a drug allergy tolerance test, especially.
Most frequent indications of this test:
Do you suspect a drug allergy?
You may need to have a lymphocyte proliferation test
Where do we do it?
IN NAVARRE AND MADRID
Department of Allergology
of the Clínica Universidad de Navarra
The Department of Allergy and Immunology of the Clinic is part of the Global Allergy and Asthma European Network, composed of the 25 best departments of Allergy in Europe, chosen for their scientific excellence, multidisciplinary work, teaching and international activities.
We have the most advanced diagnostic techniques, we are at the forefront of research and we collaborate with the best experts. We have more than 50 years of experience in the field.
What diseases do we treat?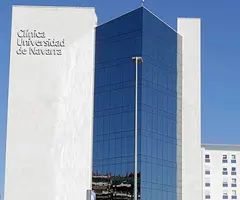 Why at the Clinica?
More than 50 years of experience.
Pioneers in the technique of molecular diagnosis by microarray.
Nursing specialized in allergic diseases and their care.
Our team of professionals