The Post-SIR-Spheres Surgery Study (P4S): Retrospective Analysis of Safety Following Hepatic Resection or Transplantation in Patients Previously Treated with Selective Internal Radiation Therapy with Yttrium-90 Resin Microspheres.
Jun 26, 2017
|
Magazine: Annals of Surgical Oncology
Pardo F (1), Sangro B (2), Lee RC (3), Manas D (4,5), Jeyarajah R (6), Donckier V (7), Maleux G (8), Pinna AD (9), Bester L (10), Morris DL (11), Iannitti D (12), Chow PK (13), Stubbs R (14), Gow PJ (15), Masi G (16), Fisher KT (17), Lau WY (18), Kouladouros K (19), Katsanos G (20), Ercolani G (21), Rotellar F (22), Bilbao JI (23), Schoen M (19).
---
BACKGROUND:
Reports show that selective internal radiation therapy (SIRT) may downsize inoperable liver tumors to resection or transplantation, or enable a bridge-to-transplant. A small-cohort study found that long-term survival in patients undergoing resection following SIRT appears possible but no robust studies on postsurgical safety outcomes exist. The Post-SIR-Spheres Surgery Study was an international, multicenter, retrospective study to assess safety outcomes of liver resection or transplantation following SIRT with yttrium-90 (Y-90) resin microspheres (SIR-Spheres®; Sirtex).
METHODS:
Data were captured retrospectively at participating SIRT centers, with Y-90 resin microspheres, surgery (resection or transplantation), and follow-up for all eligible patients. Primary endpoints were perioperative and 90-day postoperative morbidity and mortality. Standard statistical methods were used.
RESULTS:
The study included 100 patients [hepatocellular carcinoma: 49; metastatic colorectal cancer (mCRC): 30; cholangiocarcinoma, metastatic neuroendocrine tumor, other: 7 each]; 36% of patients had one or more lines of chemotherapy pre-SIRT. Sixty-three percent of patients had comorbidities, including hypertension (44%), diabetes (26%), and cardiopathy (16%).
Post-SIRT, 71 patients were resected and 29 received a liver transplant. Grade 3+ peri/postoperative complications and any grade of liver failure were experienced by 24 and 7% of patients, respectively. Four patients died <90 days postsurgery; all were trisectionectomies (mCRC: 3; cholangiocarcinoma: 1) and typically had one or more previous chemotherapy lines and presurgical comorbidities.
CONCLUSIONS:
In 100 patients undergoing liver surgery after receiving SIRT, mortality and complication rates appeared acceptable given the risk profile of the recruited patients.
CITATION Ann Surg Oncol. 2017 Jun 26. doi: 10.1245/s10434-017-5950-z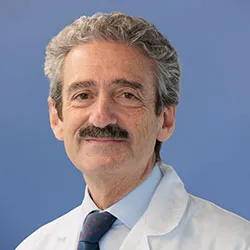 Navarre headquarters
Madrid headquarters