Relationship between deoxycytidine kinase (DCK) genotypic variants and fludarabine toxicity in patients with follicular lymphoma
Apr 1, 2011
|
Magazine: Leukemia Research
Ana Rivero 1 , Inmaculada Rapado, José F Tomás, Carlos Montalbán, Raquel de Oña, José Paz-Carreira, Miguel Canales, Rafael Martínez, Pedro Sánchez-Godoy, Alberto Fernández de Sevilla, Javier de la Serna, Joaquín Martínez-López
---
Abstract
DCK catalyzes the intracellular phosphorylation of fludarabine. The promoter and coding region of the DCK gene were analyzed in 74 follicular lymphoma (FL) patients receiving a therapeutic regimen that included fludarabine. DCK mRNA expression was quantified in a cohort of healthy donors.
Four previously described genotypic variants, -360C>G, -201C>T (rs2306744), C28624T (rs11544786) and c.91+37G>C (rs9997790), as well as the new variant, -12C>G, were identified. Variant C28624T showed a lower risk of lymphopenia (P=0.04), but a higher risk of neutropenia (P=0.04).
Statistical significance was found in bivariate logistic regression between lymphopenia and infectious episodes in the induction period (odds ratio 3.85, P=0.04).
CITATION Leuk Res. 2011 Apr;35(4):431-7. doi: 10.1016/j.leukres.2010.09.026. Epub 2010 Oct 27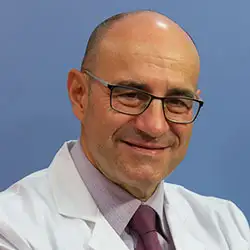 Navarre headquarters
Madrid headquarters