Melflufen for relapsed and refractory multiple myeloma
Sep 14, 2020
|
Magazine: Expert Opinion on Investigational Drugs
Albert Oriol 1 , Alessandra Larocca 2 , Xavier Leleu 3 , Roman Hajek 4 , Hani Hassoun 5 , Paula Rodríguez-Otero 6 , Agne Paner 7 , Fredrik H Schjesvold 8 , Joachim Gullbo 9 , Paul G Richardson 10
---
Introduction: The overall survival of patients with multiple myeloma has improved with the advent of novel agents; however, multiple myeloma remains incurable.
Combinations of standard-of-care agents such as immunomodulators, proteasome inhibitors, and anti-CD38 monoclonal antibodies are increasingly used in earlier lines of therapy.
Patients with disease that is refractory to multiple novel agents represent a population with high unmet medical need and for whom therapies with new mechanisms of action could be beneficial. Melflufen (also known as melphalan flufenamide, or J1) has demonstrated encouraging activity in patients with relapsed and refractory multiple myeloma.
Areas covered: This review provides an overview of the mechanism of action of melflufen, a first-in-class anticancer peptide-drug conjugate, which rapidly delivers an alkylating payload into tumor cells.
It reviews key Phase I and II clinical trial data for melflufen in combination with dexamethasone as well as in triplet combinations with daratumumab or bortezomib. The safety profile of melflufen, which is characterized primarily by clinically manageable hematologic adverse events, is described.
Expert opinion: Melflufen has potential to fill a gap in the myeloma treatment landscape by providing a new mechanism of action with clinically meaningful efficacy and a favorable safety profile in patients refractory to multiple novel agents.
CITA DEL ARTÍCULO Expert Opin Investig Drugs. 2020 Sep 14.
doi: 10.1080/13543784.2020.1808884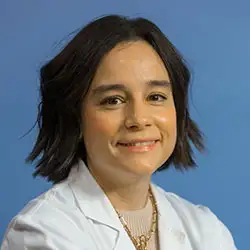 Navarre headquarters
Madrid headquarters