Melflufen and Dexamethasone in Heavily Pretreated Relapsed and Refractory Multiple Myeloma
Mar 1, 2021
|
Magazine: Journal of Clinical Oncology
Paul G Richardson 1 , Albert Oriol 2 , Alessandra Larocca 3 , Joan Bladé 4 , Michele Cavo 5 , Paula Rodriguez-Otero 6 , Xavier Leleu 7 , Omar Nadeem 1 , John W Hiemenz 8 , Hani Hassoun 9 , Cyrille Touzeau 10 11 12 , Adrián Alegre 13 , Agne Paner 14 , Christopher Maisel 15 , Amitabha Mazumder 16 , Anastasios Raptis 17 , Jan S Moreb 18 , Kenneth C Anderson 1 , Jacob P Laubach 1 , Sara Thuresson 19 , Marcus Thuresson 19 , Catriona Byrne 19 , Johan Harmenberg 19 , Nicolaas A Bakker 19 , María-Victoria Mateos 20 , HORIZON (OP-106) Investigators
---
Purpose: Melphalan flufenamide (melflufen) is a first-in-class peptide-drug conjugate that targets aminopeptidases and rapidly and selectively releases alkylating agents into tumor cells. The phase II HORIZON trial evaluated the efficacy of melflufen plus dexamethasone in relapsed and refractory multiple myeloma (RRMM), a population with an important unmet medical need.
Patients and methods: Patients with RRMM refractory to pomalidomide and/or an anti-CD38 monoclonal antibody received melflufen 40 mg intravenously on day 1 of each 28-day cycle plus once weekly oral dexamethasone at a dose of 40 mg (20 mg in patients older than 75 years).
The primary end point was overall response rate (partial response or better) assessed by the investigator and confirmed by independent review. Secondary end points included duration of response, progression-free survival, overall survival, and safety. The primary analysis is complete with long-term follow-up ongoing.
Results: Of 157 patients (median age 65 years; median five prior lines of therapy) enrolled and treated, 119 patients (76%) had triple-class-refractory disease, 55 (35%) had extramedullary disease, and 92 (59%) were refractory to previous alkylator therapy.
The overall response rate was 29% in the all-treated population, with 26% in the triple-class-refractory population. In the all-treated population, median duration of response was 5.5 months, median progression-free survival was 4.2 months, and median overall survival was 11.6 months at a median follow-up of 14 months. Grade ≥ 3 treatment-emergent adverse events occurred in 96% of patients, most commonly neutropenia (79%), thrombocytopenia (76%), and anemia (43%). Pneumonia (10%) was the most common grade 3/4 nonhematologic event. Thrombocytopenia and bleeding (both grade 3/4 but fully reversible) occurred concomitantly in four patients. GI events, reported in 97 patients (62%), were predominantly grade 1/2 (93%); none were grade 4.
Conclusion: Melflufen plus dexamethasone showed clinically meaningful efficacy and a manageable safety profile in patients with heavily pretreated RRMM, including those with triple-class-refractory and extramedullary disease.
CITATION J Clin Oncol. 2021 Mar 1;39(7):757-767. doi: 10.1200/JCO.20.02259. Epub 2020 Dec 9.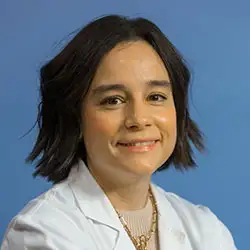 Navarre headquarters
Madrid headquarters