Daratumumab plus carfilzomib and dexamethasone in patients with relapsed or refractory multiple myeloma
Aug 1, 2019
|
Magazine: Blood
Ajai Chari 1 , Joaquín Martinez-Lopez 2 , María-Victoria Mateos 3 , Joan Bladé 4 , Lotfi Benboubker 5 , Albert Oriol 6 , Bertrand Arnulf 7 , Paula Rodriguez-Otero 8 , Luis Pineiro 9 , Andrzej Jakubowiak 10 , Carla de Boer 11 , Jianping Wang 12 , Pamela L Clemens 13 , Jon Ukropec 13 , Jordan Schecter 12 , Sagar Lonial 14 , Philippe Moreau 15
---
Abstract
Patients with relapsed or refractory multiple myeloma (RRMM) have limited treatment options and poor survival outcomes. The increasing adoption of lenalidomide-based therapy for frontline treatment of multiple myeloma has resulted in a need for effective regimens for lenalidomide-refractory patients.
This phase 1b study evaluated daratumumab plus carfilzomib and dexamethasone (D-Kd) in patients with RRMM after 1 to 3 prior lines of therapy, including bortezomib and an immunomodulatory drug; lenalidomide-refractory patients were eligible. Carfilzomib- and daratumumab-naïve patients (n = 85) received carfilzomib weekly on days 1, 8, and 15 of each 28-day cycle (20 mg/m2 initial dose, escalated to 70 mg/m2 thereafter) and dexamethasone (40 mg/wk).
Of these, 10 patients received the first daratumumab dose as a single infusion (16 mg/kg, day 1 cycle 1), and 75 patients received a split first dose (8 mg/kg, days 1-2 cycle 1). Subsequent dosing was per the approved schedule for daratumumab.
Patients received a median of 2 (range, 1-4) prior lines of therapy; 60% were lenalidomide refractory. The most common grade 3/4 treatment-emergent adverse events were thrombocytopenia (31%), lymphopenia (24%), anemia (21%), and neutropenia (21%). Infusion-related reactions were observed in 60% and 43% of single and split first-dose patients, respectively.
Overall response rate was 84% (79% in lenalidomide-refractory patients). Median progression-free survival (PFS) was not reached; 12-month PFS rates were 74% for all treated patients and 65% for lenalidomide-refractory patients. D-Kd was well tolerated with low neutropenia rates, and it demonstrated deep responses and encouraging PFS, including in patients refractory to lenalidomide. The trial was registered at www.clinicaltrials.gov as #NCT01998971.
CITATION Blood. 2019 Aug 1;134(5):421-431. doi: 10.1182/blood.2019000722. Epub 2019 May 21.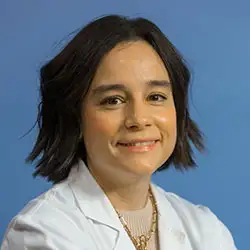 Navarre headquarters
Madrid headquarters