Combination immunotherapy for hepatocellular carcinoma
Mar 16, 2023
|
Magazine: Journal of Hepatology
Lorenza Rimassa 1 , Richard S Finn 2 , Bruno Sangro 3
---
Abstract
Single-agent immune checkpoint inhibitors (ICIs) have been tested in patients with advanced hepatocellular carcinoma (HCC) showing an objective response rate of 15-20%, mostly without a significant overall survival (OS) benefit. Furthermore, approximately 30% of HCC shows intrinsic resistance to ICIs.
In the absence of predictive biomarkers to identify patients likely to benefit most from immunotherapy, research has moved to exploring combinations with potential activity in broader patient populations. Basket trials, including cohorts of patients with HCC, and early phase studies tested the combination of ICIs with antiangiogenic agents as well as the combination of two different ICIs.
The achieved promising results provided the rationale for the following phase 3 trials, which tested the combination of anti-PD-1/PD-L1 with bevacizumab, or tyrosine kinase inhibitors (TKIs), or anti-CTLA-4. Positive results from the IMbrave150 trial led to the practice-changing approval of atezolizumab-bevacizumab, the first regimen to demonstrate improved survival in the front-line setting, since the approval of sorafenib. More recently, the HIMALAYA trial demonstrated the superiority of durvalumab-tremelimumab (STRIDE regimen) over sorafenib, establishing a new first-line option.
In contrast, inconsistent results have been achieved with combinations of ICIs and TKIs, with only one phase 3 trial showing an OS benefit. The rapidly evolving therapeutic landscape for patients with advanced HCC has left significant unmet needs to be addressed in future research. These include choice and sequencing of treatments, identification of biomarkers, combinations with locoregional therapies, and development of new immunotherapy agents.
This review summarizes the scientific rationale and available clinical data for combination immunotherapy in advanced HCC.
CITATION J Hepatol. 2023 Mar 16;S0168-8278(23)00178-2. doi: 10.1016/j.jhep.2023.03.003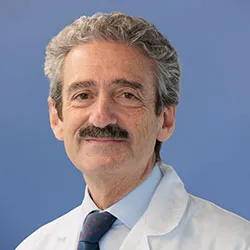 Navarre headquarters
Madrid headquarters