Bilateral peripheral facial palsy secondary to Waldenström's macroglobulinemia. A case report and literature review
Dec 1, 2014
|
Magazine: Acta Haematologica Polonica
Sánchez-Orgaz, M., Spiess, K., Canales-Albendea, M.A., ...Romero-Martín, R., Clos, P.M.
---
Abstract
A 59-year old woman who attended the emergency department because of a bilateral peripheral facial nerve palsy (FNP). Bilateral FNP is uncommon, an idiopathic cause is unlikely and consequently a comprehensive study is indicated.
An IgM monoclonal gammopathy was detected on serum protein electrophoresis of our patient. Bone marrow biopsy showed the presence of lymphoplasmocytoid cells. On the basis of these findings the diagnosis of Waldenström's macroglobulinemia (WM) was made. Secondary cranial nerve palsies are rarely seen in this condition.
This report describes a case of bilateral FNP as initial presentation of a Waldenström's macroglobulinemia and discuss treatment.
CITATION Acta Haematologica Polonica, 2014, 45(4), pp. 374–377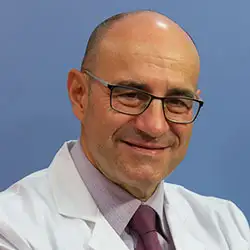 Navarre headquarters
Madrid headquarters