The Advanced Therapies Unit
"We have been developing the use of advanced cellular therapies for more than 20 years, both from the point of view of laboratory research and from that of trials and treatments".
DR. FELIPE PRÓSPER DIRECTOR. THE ADVANCED THERAPIES UNIT
The Advanced Therapies Unit at the Clínica Universidad de Navarra has been created to provide an exclusive approach to cellular therapies against cancer and other diseases of the immune system, favouring their administration and seeking to increase the safety of these treatments.
The unit centralises, in a transversal manner, the professional career of a multidisciplinary team of highly specialised nurses together with doctors from all the specialities involved in the approach to those treatments that depend on advanced therapy drugs and immunotherapy.
Its facilities include a hospitalisation area with 15 individual rooms, equipped with the most advanced technology in the treatment of these diseases
Why choose the Clínica Universidad de Navarra?
We are the best private hospital in Spain for the seventh time in a row
(Health Reputation Monitor Ranking 2020)
Experience
More than 25 years of research and transplantation of haematopoietic progenitors.
Multidisciplinary team
Professionals from different specialities and an advanced nursing team with a long history of experience in dealing with these treatments.
Comprehensive approach
Highly experienced nurses in the care of patients with hematological disease, who have undergone bone marrow transplant and CAR-T cell treatment.
A treatment for every disease
IN NAVARRE

BONE MARROW TRANSPLANTATION
Childhood Tumors: Neuroblastoma and Germinal Tumors

Aplastic, sickle cell, sickle cell and thalassemia

Immunodeficiencies

Connectivopathies

IMMUNE CELL THERAPIES (TILS AND CAR-T)

THERAPEUTIC VACCINES

IMMUNE CONTROL POINT INHIBITORS
Would you like to learn more about these treatments?
Bone marrow or haematopoietic progenitor transplantation is indicated for patients with blood cancer or alterations in bone marrow function.
Among these, at the Clínica Universidad de Navarra we treat multiple myeloma, some leukaemias, certain lymphomas, myelodysplastic syndromes and some childhood tumours (neuroblastoma, germinal tumours), other serious blood diseases (such as thalassaemia, Falconi's or aplastic anaemia and sickle cell anaemia) and some diseases of the immune system.
This procedure aims to restore normal bone marrow function by replacing defective stem cells. When these are transplanted, the bone marrow is repopulated with healthy cells and the correct production of blood cells and platelets is resumed.
Within the field of immunotherapy, adoptive cell therapy, a type of advanced therapy that allows the cells of the patient's immune system to attack the cancer, is emerging strongly.
It involves the extraction and use of a patient's own immune system cells to treat their tumor in a personalized way.
Among the forms of adoptive cell therapy, perhaps the most widespread clinically today would be the use of TIL cells and CAR-T cells.
CAR-T cell treatment is a new immunotherapy strategy that combines two forms of advanced therapy: cell therapy and gene therapy. It consists of extracting T cells from the patient with cancer (autologous if they are the patient's own, or allogeneic if they are from a donor) and, in the laboratory, introducing genetic material that enables them to recognize the tumor again and to activate its destruction machinery.
The Clínica Universidad de Navarra designs vaccines with the objective of delaying or stopping the progression of the cancer, reducing the tumor, preventing its reappearance, and eliminating possible cells that have not been eliminated with other treatments.
For its elaboration it can use the patient's own dendritic cells.
Dendritic cells are a type of immune cell that stimulates the immune response by presenting an antigen on its surface to the other cells.
The Clínica Universidad de Navarra is carrying out various treatment studies using immunotherapy based on dendritic cells in advanced neoplasms, such as metastatic colon cancer, breast cancer or glioblastoma multiforme, which consistently show that it is possible to achieve a specific immune reaction against the tumor.
This type of immunotherapy tries to regulate the action of the immune system.
This involves, among many other receptors and ligands, two proteins, PD-1 and CTLA-4, which are found in T-lymphocytes, and their mission is to prevent these cells from destroying other cells, such as cancer cells, thus acting as "brakes" on the control of the immune system. By inhibiting these molecules, the action of these "brakes" is eliminated and the body's defence action is stimulated.
This line of research uses an innovative strategy to accelerate the testing of combinations of immunotherapy drugs in a selection of tumours such as pancreas, stomach, lung or breast. Through the imCORE programme, the aim is to promote laboratory research associated with these complex clinical studies.
CAR-T Cell Therapy
Find out how they work
(available in spanish)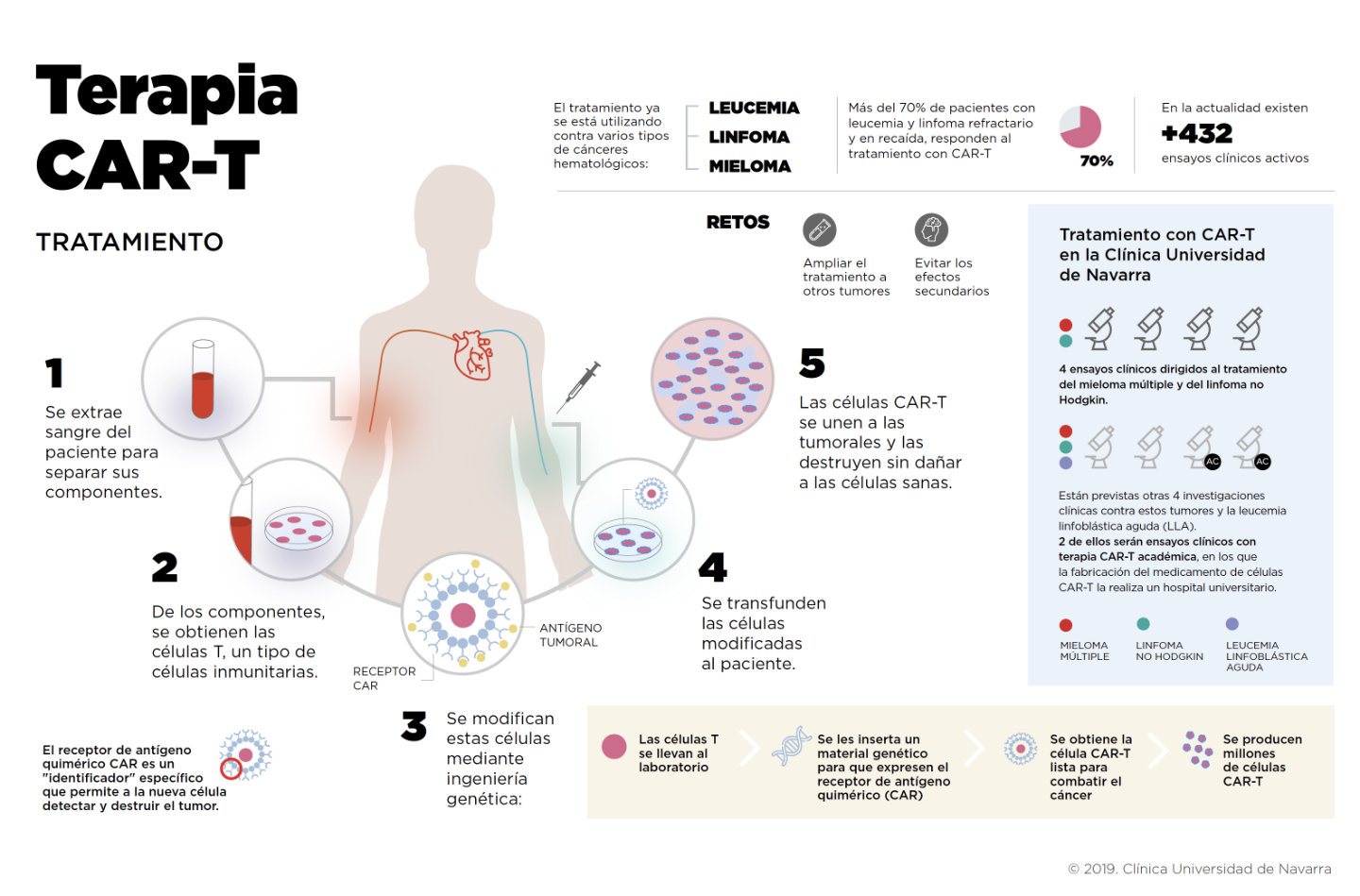 HIGH SPECIALIZATION
Comprehensive care
The Advanced Therapies Unit centralizes the professional work of a multidisciplinary medical and nursing team with a long track record in dealing with treatments that depend on advanced therapy drugs and immunotherapy.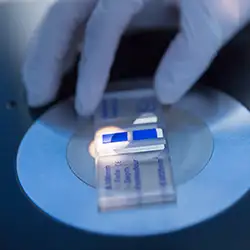 GMP Cell Therapy Laboratory
This laboratory produces advanced therapy medicines under correct manufacturing standards and is authorized by the Spanish Agency for Medicines and Health Products.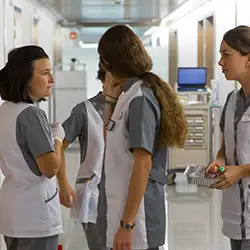 Specialized Nursing
Its work is focused on the monitoring of the therapeutic process, the palliation of possible adverse symptoms caused by the medication and the prevention of possible complications.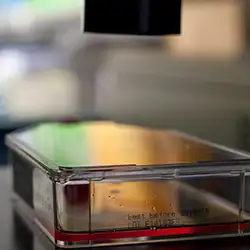 Excellence in research
The Clínica Universidad de Navarra is a pioneer in cancer research and in addressing other diseases related to the immune system.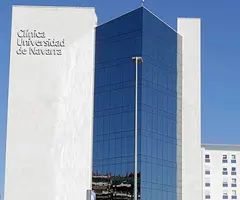 Why in Navarre?
International reference multidisciplinary team.
Highly specialised nursing team.
First GMP Cell Therapy Laboratory accredited in a hospital within the National Health System.
Our team of professionals
The cells of the patient's immune system attack the cancer
The Clinic has several trials underway with CAR-T cells for the treatment of lymphomas, leukaemias and multiple myeloma, aimed at patients who have relapsed and are resistant to conventional treatment.
These trials include clinical trials with academic CAR-T therapy, i.e. trials in which the manufacture of the CAR-T cell medicine is carried out by an academic hospital.
We help our patients to overcome their stories
Their testimonies encourage us to continue improving our services