Home >
Dr. Miguel Angel Muñoz Navas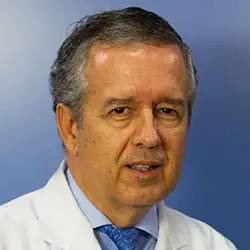 meet

Dr. Miguel Ángel Muñoz Navas

Head of Digestion Department
Digestion Specialist
training and

Professional Career

Graduated in Medicine from the University of Zaragoza in 1976. He specialised in Internal Medicine and the Digestive System at the Clínica Universidad de Navarra and was awarded his doctorate in Medicine from the University of Navarra in 1980, with a "cum laude" qualification for his outstanding work.

He has been the Head of the Endoscopy Unit at the Clínica since 1985 and the Head of the Digestion Department since 1998.

His main research areas include the early detection of colon cancer and oesophageal adenocarcinoma, as well as new digestive endoscopy technology. He is one of the leading investigators in the multicentre European study of the use of endoscopic colon capsules in diagnosis.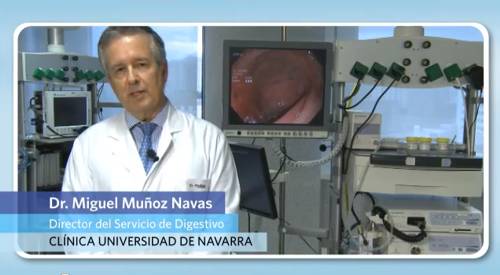 Colon cancer prevention in the Clinica. [Video only available in Spanish]
ACTIVIDAD
As an educator
Associated professor of Gastroenterology in the University of Navarra Faculty of Medicine.
As a researcher
He has made more than 550 presentations and speeches at conferences and national meetings and more than 250 at international events. Likewise, he has had more than 200 articles published in both Spanish and international magazines.
He has written 7 books, including: Atlas of Clinical Gastrointestinal Endoscopy, CM Wilcox, M. Muñoz-Navas, JJY. Sung. Saunders-Elsevier, Philadelphia 2007, which has been translating into 5 languages and 3 editions have been published; and Interventional and Therapeutic Gastrointestinal Endoscopy", K. Monkemüller, M. Wilcox, Muñoz-Navas M, Karger (Basilea, 2009).
He organises a biannual international course for therapeutic digestive endoscopy which doctors from all over the world attend.
President of the Spanish Society of Digestive Pathology
"National Societies Forum" in the "United European Gastroenterology" (UEG)
National Commission for Digestive System Specialities
National Executive Alliance Committee for the prevention of colon cancer
Editorial committee for the following magazines: Gastrointestinal Endoscopy, Annals of Gastroenterology and Hepatology and the Spanish magazine for Digestive Diseases
Honorary member of the American Society of Digestive Endoscopy, the Spanish Society for the same speciality and the Dominican Gastroenterology Society
El doctor Miguel Ángel Muñoz Navas recibió la Medalla de Oro de la Sociedad Española de Patología Digestiva (SPED) durante la celebración del 75 Congreso de la Sociedad Española de Patología Digestiva.
you may

BE INTERESTED

The Clínica is the spanish private hospital with the greatest technological equipment in one single center.

If you live outside of Spain and you wish to receive care at the Clínica, learn about our services for international patients.

Why we are different from other healthcare centers.
Quality, speed, comfort and results.