Home >
Dr. José Calabuig Nogués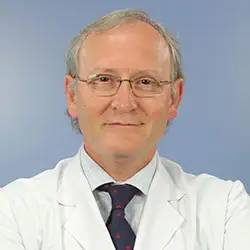 meet

Dr. José Calabuig Nogués

Head of Interventional Cardiology Unit
Responsible of Sports Medicine Area
Cardiology Specialist
training and

Professional Career

Graduated in Medicine and Surgery from the University of Valencia (1980).

He was awarded his doctorate in Medicine and Surgery from the University of Navarra (1992) with Cum Laude graduation honours and a Prize for his Doctoral Thesis.

He is a Cardiology Specialist at the Clínica Universidad de Navarra. He completed his training with some residencies abroad (Toulouse Dr. Jean Marco 1986 and Washington D.C. Dr. Augusto Pichard 1996-97).

Furthermore, he subspecialised in Interventional Cardiology (1998) and was accredited by the Haemodynamic Section of the Spanish Society of Cardiology in the same year.

He has been the Head of the Interventional Cardiology Unit since 2001.

His Research Area is focussed on the study and detection of coronary vulnerable plaque markers using imaging techniques. His research also includes the evaluation of regression of the hypertrophy and fibrosis in the Left Ventricle using markers, renal denervation and the treatment of refractory arterial hypertension.

His areas of interest centre on the treatment of coronary lesions, functional evaluation techniques, such as FFR using a pressure guide, and imaging techniques such as OCT (optical coherence tomography) and Intracoronary Ultrasounds (HV or virtual histology and IVUS). He uses treatments with 2nd techniques rotational atherectomy (rotablator). He was one of the first Cardiologists to start using coronary stents in Spain and the first to use optical coherence tomography (OCT) to study the coronary vulnerable plaque. Currently, he carries out all available treatments at the Clínica for all forms of ischemic cardiopathology. For years, he has carried out all of our Structural Cardiology treatments such as the closure of the permeable oval foramen (FOP) with a scope and no need for ultrasound, closure of the atrial septum (CIA), the left atrial appendage, the permeable aterial duct as well as, pulmonary valvuloplasty and or 3rd generation stents, as well as resorbable stents, and through the percutaneous implantation of aortic prothesis. He is currently the best Interventional Cardiologist in Spain for renal denervation with a Tetrapolar catheter.

Dr. Calabuig explains what is aortic stenosis and available treatments exist to deal with this disease. [Video only available in Spanish]
ACTIVITY
As an educator
Associate professor of Cardiology since 1992, and assistant professor since 2001.
He is also responsible for the module "Sports Medicine" and has tutored second year students since 1998.
In charge of Cardiology work placements since 2009
As a researcher
Author of 60 articles in international and national specialised scientific magazines
Spanish Cardiology Society
European Cardiology Society
Haemodynamic and Interventional Cardiology Section
One of the first Cardiologists to start using coronary stents in Spain
The first to use optical coherence tomography (OCT) to study the coronary vulnerable plaque.
The first Interventional Cardiologist in Spain to carry out a renal denervation with a Tetrapolar catheter.
Despite the volume of patients, there is no waiting list in the Haemodynamics Unit to perform surgery because these operations are performed the day of the diagnosis or, if preparation is needed, in 24 hours".
you may

BE INTERESTED

The Clínica is the spanish private hospital with the greatest technological equipment in one single center.

If you live outside of Spain and you wish to receive care at the Clínica, learn about our services for international patients.

Why we are different from other healthcare centers.
Quality, speed, comfort and results.