Home >
Dr. Jorge Guridi Legarra
meet

Dr. Jorge Guridi Legarra

Head of Neurosurgery
Department Neurosurgery Specialist
training and

Professional Career

Graduated (1978) and was awarded his doctorate (1994) in Medicine and Surgery from the University of Navarra Faculty of Medicine. He became a Neurosurgery Specialist at the University of Zaragoza after his residency in the Neurosurgery Unit at the Hospital of Navarra. He completed his training with residencies in the Neurosurgery Unit of the Mayo Clinic and in the Neurology & Neurosurgery Department at Emory University (USA).

He works as the Head of Neurosurgery Department at the Clínica Universidad de Navarra.

He has led various national and international projects for research into basal ganglia surgery in experimental animals. He participated as the European Neurosurgeon in the Cooperative International Study of advanced Parkinson ́s disease treatment with subthalamic nucleus or internal globus pallidus stimulation.

Estudio de diagnóstico y tratamiento de:
Enfermedades neurodegenerativas
Estimulación cerebral profunda
Cirugía funcional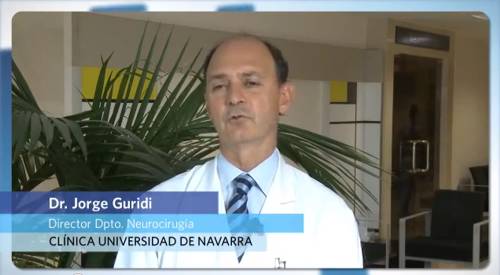 Who can be operated Parkinson's disease?. [Video only available in Spanish]
ACTIVITY
As an educator
Associate professor at the University of Navarra.
Deep Stimulation Professor at the Expert Training Committee for Young Neurosurgeons.
As a researcher
Author of more than 100 publications in national and international magazines, 30 book chapters and 200 presentations at conferences and seminars about the speciality.
Sociedad Española de Cirugía Funcional (2012-2014)
you may

BE INTERESTED

The Clínica is the spanish private hospital with the greatest technological equipment in one single center.

If you live outside of Spain and you wish to receive care at the Clínica, learn about our services for international patients.

Why we are different from other healthcare centers.
Quality, speed, comfort and results.