Home >
Dr. Javier Zulueta Francés
meet

Dr. Javier Zulueta Francés

Head of Pneumology Department
Codirector of Lung Cancer Area
Pneumology Specialist
Area of Expertise: Diagnosis and treatment of lung cancer
training and

Professional Career

Graduated (1986) and was awarded his doctorate (1998) in Medicine and Surgery from the Complutense University of Madrid. He specialised in Internal Medicine at St. Luke's Hospital, a teaching centre in the Case Western University of Cleveland (USA).

He subspecialised in Pneumology and Intensive Medicine at the New England Medical Center, in the Tufts University Hospital, in Boston (USA).

He now works as the Head of the Pneumology Department at the Clínica Universidad de Navarra.

Codirector of Lung Cancer Area.

His main research areas include the early detection of lung cancer and pulmonary emphysema, as well as the cause and effect relation between both diseases. He is the principal researcher on the I-ELCAP study, a multicentre international study for early detection of lung cancer using thoracic CT scans with a low radiation dosage, which began in 2008 and to date, have been used on more than 60,000 individuals.
Early detection of lung cancer
General Pneumology
COPD
Bronchial Asthma
Sarcoidosis
Pulmonary Hypertension
Chronic Cough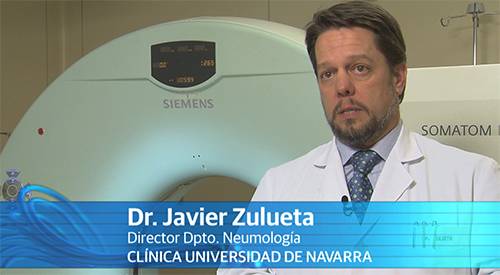 Conduct an annual preventive CT is effective in reducing deaths from lung cancer. [Video only available in Spanish]
ACTIVITY
As an educator
Professor of "Respiratory Diseases" at the University of Navarra Faculty of Medicine
As a researcher
He has made multiple presentations at national and international conferences.
He is the Principal Researcher on the I-ELCAP study, a multicentre international study for early detection of lung cancer
This Unit has the technology and experience necessary to evaluate all types of sports men and women, from those who are just starting to the elite.
The cost of conducting early detection programmes with chest CT is not excessive for society, because early treatment of lung cancer is much less expensive than in advanced phases".
you may

BE INTERESTED

The Clínica is the spanish private hospital with the greatest technological equipment in one single center.

If you live outside of Spain and you wish to receive care at the Clínica, learn about our services for international patients.

Why we are different from other healthcare centers.
Quality, speed, comfort and results.