Home >
Dr. Felipe Prósper Cardoso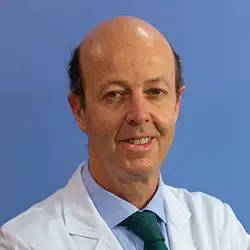 meet

Dr. Felipe Prósper Cardoso

Head of Cellular Therapy Unit
Co-director of Haematology and Haemotherapy Unit
Haematology and Oncology Specialist
training and

Professional Career

Graduated (1988) and was awarded his doctorate (1994) in Medicine from the University of Navarra. He specialised in Haematology and Haemotherapy at the Clínica Universidad de Navarra. He completed his training with a fellowship in Haematology and Oncology at the University of Minnesota (1997).

He is now the Head of the Cellular Therapy Unit and Co-director of the Haematology and Haemotherapy Unit at the Clínica Universidad de Navarra.

He has worked as the lead researcher on more than 25 clinical trials. He has led more than 50 research projects, financed by institutions such as FIS, the Ministry of Science and Technology, European and private institution projects.

His main areas of interest are myeloma, chronic myeloproliferative syndromes and leukaemia. He is developing a research programme for the clinical application of cellular therapy with adult stem cells, following various lines of investigation, mainly focused on the use of stem cells to treat cardiovascular, osteoarticular and immune system diseases. At the same time, he is developing a line of investigation into the epigenetic control mechanisms for both haematological malignancies and healthy stem cells, in order to investigate the role of these mechanisms for self-renewal and differentiation.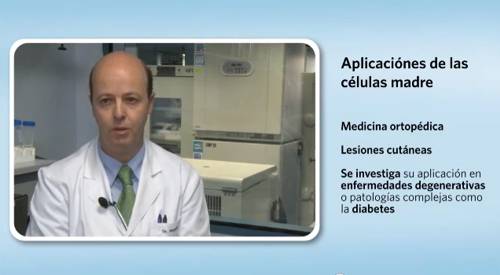 Aplicaciones actuales de las células madre.
ACTIVITY
As an educator
Accredited as an Associate Professor at the University of Navarra by the ANECA
As a researcher
He has written more than 240 guest speaker presentations at both national and international events.
He has had more than 190 articles published in prestigious scientific national and international magazines .
Spanish Association of Haematology and Haemotherapy (AEHH)
American Society of Haematology (ASH)
International Society of Experimental Haematology (ISEH)
Spanish Association for Research against Cancer (ASEICA)
European Haematology Association (EHA)
Young Investigator Award, Blood Club, Central Society of Clinical Investigation, Chicago, 1996
Prize for Best Basic or Clinically Applied Breast Cancer Research Project. Novartis: Effects of the inhibition of tyrosine kinase activity in the family receptors for epidermal growth (EGF) in the regulation of the proliferation and apoptosis of breast cancer cells (2001)
Rafael Hervada Prize for Biomedical Research: myocardial regeneration with autologous myoblasts: experimental and clinical study, Rafael Hervada Hospital, December 2005
Runner up for 2007 Bayer-Schering-Pharma Prize for Lymphoproliferative Syndromes Research: Epigenetic regulation of Wnt-signalling pathway in acute lymphoblastic leukaemia, XLIX AEHH National Meeting and XXIII SETH National Conference, Pamplona, October 2007
FEHH-ASTRA ZENECA Prize 2007 - Epigenetic regulation of human cancer/testis antigen gene, HAGE, in chronic myeloid leukaemia, XLIX AEHH National Meeting and XXIII SETH National Conference, Pamplona, October 2007
BIAL Prize 2009 - The role of Epigenetics in the Prognosis and Pathogenesis of Acute Lymphoblastic Leukaemia, Lisbon, May 2009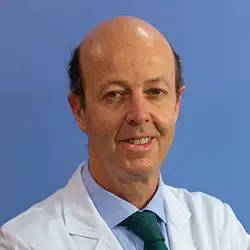 The future is looking good, but we must work towards our objectives such as improving patient survival rate by using stem cell therapy, which is an effective treatment of cardiovascular diseases."
you may

BE INTERESTED

The Clínica is the spanish private hospital with the greatest technological equipment in one single center.

If you live outside of Spain and you wish to receive care at the Clínica, learn about our services for international patients.

Why we are different from other healthcare centers.
Quality, speed, comfort and results.