Proton treatment
"Protontherapy is the most precise external radiation therapy that protects healthy tissue as much as possible because it does not expose them unnecessarily to radiation".
DR. FELIPE CALVO CODIRECTOR. RADIOTHERAPEUTIC ONCOLOGY DEPARTMENT
Proton therapy, or proton radiotherapy, is a very precise treatment that minimizes the damage to healthy surrounding organs and structures. In the treatment of numerous tumors it will displace the classic radiotherapy with photons, because of its lower toxicity and its high precision.
The Proton Therapy Unit of the Clínica Universidad de Navarra in its Madrid headquarters is the most advanced in Europe and the first in a Cancer Center, with all its assistance, academic and research support.
Proton therapy has a more effective distribution of energy than photons, making it possible to direct higher doses to the area of the tumor without increasing the doses in other areas, minimizing the damage that radiotherapy can produce in healthy or very sensitive tissues, or in growing tissues, as in the case of children.
More than 140,000 patients have already been treated with this therapy worldwide. It provides very promising results with minimal side effects in pediatric tumors, ocular melanoma, in tumors of the base of the skull, brain, head and neck, lymphomas and spinal and peritoneal sarcomas.
Moreover, research is being carried out to extend its indications to other types of tumors such as breast, lung, liver, prostate and gynecological.
Do you need us to help you?
Do you want to learn if your patient is a candidate for proton therapy?
Complete this form and our specialists will contact you to discuss the case.
When is proton therapy indicated?
It is considered the treatment of choice for children suffering from cancer, since proton therapy, unlike conventional radiotherapy, respects healthy tissues (which are still forming) and minimizes sequelae, which is fundamental for the future development of the child.
Furthermore, for the elderly who generally present other pathologies (diabetes, cholesterol, hypertension, kidney problems...) it also represents a great advance since the use of protons does not add another additional lesion to the tissues that are already chronically damaged.
Recommended indications:
Brain and eye tumors, base of the skull.

Spinal and peritoneal sarcomas.

Pediatric tumors (cerebral and spinal cord).
In investigation:
Do you have any of these diseases?
It may be necessary to begin treatment with proton therapy
The most advanced Proton Therapy Unit in Europe
The Clínica Universidad de Navarra allies with Hitachi to offer for the first time in Europe the same technology already present in 27 leading international cancer treatment centers.
How is proton therapy performed?
Proton therapy uses protons extracted from hydrogen molecules that are injected into a linear accelerator that expels them at low speed.
In the particle accelerator, whether a cyclotron or a synchrotron, four magnets move the protons in a circle and an electric field gradually increases their speed. When they have reached a sufficient speed they are deflected to be used.
Before starting the treatment, a cone beam CT is performed that will visualize the patient's internal anatomy in order to accurately locate the tumor.
Once the right angle for treatment has been chosen and the patient is placed at the exact angle for optimal treatment delivery, the proton beam deposits almost all the energy in the tumor. It produces very little damage to healthy tissues in front of the tumor and no damage to the back tissues.
This entire process makes proton therapy the best alternative for tumors that are difficult to reach or are surrounded by healthy vital structures and organs that must be preserved.
Traditional X-ray radiation therapy emits photons (high-energy light particles). To minimize damage to healthy structures it attacks the tumor from multiple angles. Even so, due to the characteristics of this type of energy, a great deal of damage is produced along the entire path of the ray, damaging healthy structures and organs that can present problems in the medium to long term.
Proton therapy, on the other hand, uses a type of energy that makes it possible to achieve greater precision and control of its trajectory. The protons are barely deflected and we can treat the tumor from only 2 or 3 points.
In addition, almost all the energy is deposited in the tumor, causing very little damage to structures located in front and no damage to structures behind the tumor.
Where do we do it?
IN MADRID
The Department of Radiation Oncology of the Clínica
of the Clínica Universidad de Navarra
The Clínica Universidad de Navarra's Department of Radiation Oncology has extensive experience in external and intensity-modulated radiotherapy. In addition, we apply various state-of-the-art medical-surgical techniques available in a few Spanish centers.
We are one of the international reference centers in the performance of intraoperative implants and radiation treatment with high rate brachytherapy technique during the postoperative period.
We have one of the most extensive experiences worldwide in the treatment of intraoperative brachytherapy of head and neck tumors, soft tissue sarcomas and gynecological tumors.
Treatments we perform
Interstitial brachytherapy

Intraoperative brachytherapy

3D Conformal External Radiotherapy

Intensity-Modulated Radiation Therapy

Stereotactic Radiotherapy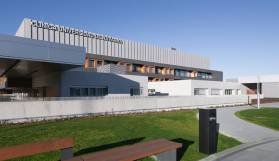 Why at the Clinica?
Expert professionals of reference at international level.
Greater accessibility for national and international patients.
State-of-the-art technology, the most advanced in Spain.
The most advanced proton therapy unit in Europe at the Madrid headquarters for the treatment of cancer with protons.
Our team of professionals
Radiation Oncology Specialists with experience in proton therapy for cancer