only
6

%
of patients experience prostoperative irritative symptoms
Treatment using prostatectomy
The increase in size of the prostate is a disease with a high incidence.
It is estimated that the condition affects 25% of men over the age of 50. This proportion increases to half of the male population aged 60 and 80% of men older than 80.
Prostatectomy is the surgery for extracting the whole or part of the prostate gland. It is performed when the patient experiences prostate cancer or benign prostate hyperplasia.
The Clínica is a pioneer in this field and is one of the most experienced centres in performing this procedure using robotic surgery, which results in significant advantages for the patient.
Our Department have a certificate of accreditation of the European Board of Urology.
The Da Vinci robot is a sophisticated tool that aids surgeons when carrying out radical prostatectomies. Patients recover much more quickly, than with conventional methods, after the operation".
In cases of benign disease (hyperplasia), the surgical treatment is minimally invasive (by eliminating prostate tissue through the urethra or by transurethral resection of the prostate).
Only in cases of large prostates is there still an indication for open surgery (adenomectomy).
The procedure requires a hospital stay of between 2 and 4 days. The risk of transfusion occurs in 3% to 7% of cases, incontinence occurs in 0.5% and impotence in 5% of cases.
For large prostatic hyperplasias (greater than 80 cubic centimetres), open surgery is indicated in most cases. The surgery requires a hospital stay of between 5 and 7 days, and between 13% and 20% of cases require blood transfusions.
Additionally, open surgery for benign prostate hyperplasia can cause incontinence in approximately 4% of patients and impotence in 8% to 15%.
For hyperplasias smaller than 80 cubic centimetres, a condition that represents between 80% and 85% of cases, the technique of choice is transurethral resection. The procedure is performed through the urethra, using a resector that uses electricity to remove the hyperplastic gland tissue.
In prostate cancer, the prostate and seminal vesicles are removed. This can be performed through open surgery, laparoscopy or robot-assisted laparoscopy.
These last two techniques are most frequently employed in our Department, because they are less aggressive than conventional surgery. They require a hospital stay of between 3 and 4 days. The need for transfusion is approximately 0.5%; there is some urinary loss in 8% of cases and erectile dysfunction in 35% of cases.
Learn more about prostatectomy
There is a new treatment for benign prostate hyperplasia known as photovaporisation of the prostate with potassium-titanyl-phosphate (KTP) green laser.
KTP laser is a green laser fibre (thus its name), which acts through a light beam with a wavelength of 532 nanometres.
The application of the KTP laser on the prostate converts the prostate tissue into steam using the generated heat, and is eliminated by a system of continuous irrigation.
At the same time, the blood vessels are closed to prevent bleeding. The surgery requires anaesthesia and a hospital stay of approximately 24 to 48 hours. The need for a catheter is extended for only a few hours.
This technique is indicated for patients who have benign prostate hyperplasia.
For what diseases is this indicated?
Know what prostate cancer is [Infography only available in Spanish]
Download document
learn more about our

ROBOTIC SURGERY TECHNOLOGY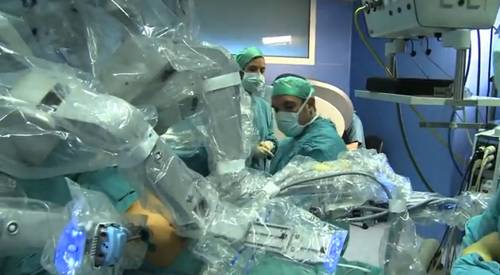 The Clínica improves their surgeries with the Da Vinci robot technology. [Video only available in Spanish]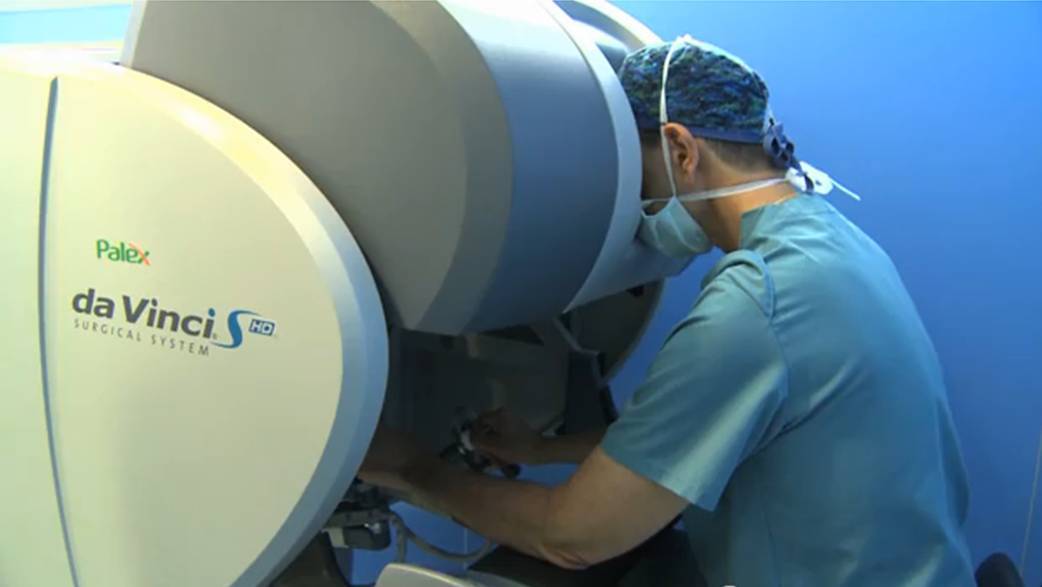 Obstructive sleep apnea can lead to strokes or cardiomyopathies. [Video only available in Spanish]
Learn all about the robotic system Da Vinci. [Infographic only available in Spanish]
Download document
Latest technology
To improve your health and quality of life, we have the Da Vinci® Robot for performing minimally aggressive surgery.
Less invasive surgery
Reduces the hospital stay and the risk of bleeding, which are significant benefits for the patient.
Assistance for the surgeon
When access is difficult or maximum precision is required, robotic surgery can assist the surgeon.
you may

BE INTERESTED

Learn why the Clínica Universidad de Navarra is different from other hospitals.

Want to participate in our clinical trials? Learn which ones are active.

Know what we do for our international patients