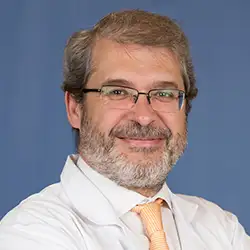 Dr. Felipe Villacampa
Specialist in Urology. Preferential dedication to Uro-Oncology, especially bladder, kidney and testicular tumors. Male fertility.
Works at:
Madrid headquarters
Be part of:
Clínica Universidad de Navarra
Cancer Center Clínica Universidad de Navarra
Professional career
Degree in Medicine and Surgery from the Autonomous University of Medicine in Madrid (1995).
Specialist in Urology by the Universidad Complutense de Madrid (2001) in the Hospital 12 de Octubre.
Assistant Doctor of Urology at the Hospital 12 de Octubre in Madrid (2004-2017).
Physician in charge for the Urooncology unit of the Urology Service at the 12th October University Hospital in Madrid until December 2017.
RESEARCH AREAS
Bladder cancer: projects in the filiation of non-muscular invasive tumors, as well as the study of the response to BCG and possible alternatives, such as chemohyperthermia.
Muscle infiltrating bladder cancer: development of trimodal therapy, as well as drugs adjuvant to radical cystectomy.
Renal cancer: study of prognostic factors in the localized tumor, as well as development of ablative therapies together with partial nephrectomy.
AREAS OF INTEREST
Management of bladder, germ and kidney cancer, with a clear focus on the patient, research and teaching.
Since 2012, in close relationship with the Oncogenomics Unit led by Dr. Jesus Paramio (CIEMAT, I+12), creating a prospective biobank as well as multiple trials in urological tumors. The creation of a joint unit with the CIMA (Center for Applied Medical Research) in Pamplona is currently under development.
Usual urological surgeries, with special emphasis on laparoscopic urology (nephrectomies, partial nephrectomies, adrenalectomies and radical laparoscopic cystectomies) and conservative therapies of orthopaedic surgery.
Activity
As an educator
Professor of Practice in the Faculty of Medicine at the Complutense University of Madrid (2005-2017).
Tutor of Residents in the Urology Service at the University Hospital 12 de Octubre in Madrid, (2011-2017).
As a researcher
Author or co-author of more than 60 articles in national and international journals.
Author or co-author of more than 150 communications to National and International Congresses of Urology.
Principal investigator of 4 research projects and co-investigator in 10 others.
Speaker in multiple congress tables and talks of the specialty, mainly in bladder and renal cancer.
Latest scientific publications