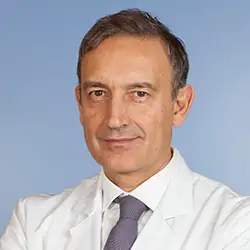 Dr. Bernardino Miñana López
Director of the Department of Urology. Specialist in Urology
Preferential dedication to Oncological Urology
Works at:
Madrid headquarters
Be part of:
Clínica Universidad de Navarra
Cancer Center Clínica Universidad de Navarra
Professional career
Graduated with honors in Medicine from the University of Valencia and holds a doctorate from the Universidad Complutense de Madrid (1998). He specialized in Urology via MIR at the 12 de Octubre Hospital in Madrid (1993). Master's degree in Medical Management and Clinical Management from the UNED and the National School of Health.
In 2010 he stayed at the AVK Auguste-Viktoria-Hospital Teaching Hospital of Free University in Berlin. In addition, in 2013 he did another stay in the Department of Urology at University College London.
Since 1996 he has been Head of Urology at the Hospital Universitario Morales Meseguer in Murcia. In 2014 he founded the Mediterranean Urological Corporation.
He has been Coordinator of the Urological Oncology Group and Vocal of Scientific Activities of the Spanish Association of Urology.
Director of the Urology Department at the Clinic since 2017.
RESEARCH AREAS
He has collaborated on 13 research projects, most of which have been devoted to prostate cancer, the treatment or improvement of bone problems in cancer patients, the study of male health or prostatic hyperplasia.
In addition, he has participated in 9 clinical trials related to urological oncology, prostate and bladder. He has directed, collaborated or promoted 7 epidemiological research projects.
AREAS OF INTEREST
His preferred field is urological oncology.
He is a specialist in laparoscopic and robotic surgery, Holmium laser and pioneer in Spain of transperineal biopsies-mapping with fusion techniques and their application through focal therapy of prostate cancer.
Activity
As an educator
Accredited by ANECA as a contract-doctorate and private university professor.
Director of the Urology Chair at the San Antonio Catholic University of Murcia from 2013-2017.
Professor of Urology at the University of Navarra since 2018.
Director of 3 doctoral theses. Member of doctoral thesis boards.
As a researcher
He is the author or co-author of more than 100 publications in indexed journals, 15 book chapters and more than 250 communications for national and international conferences.
He has participated in the edition of several books related to the specialty and has organized 19 scientific events.

Scientific organizations
Member of the National Prostate Health Council.
National Coordinator of Oncological Urology of the Spanish Association of Urology.
Member of the European Association of Urology.
President of the Association for Murcian Urological Research.
Member of the Spanish Association of Quality Care.
Numerary member of the Spanish Association of Urology.
Latest scientific publications