Home >
Metabolic or diabetes surgery. Surgical treatment
Metabolic
surgery
Metabolic surgery at the Clínica. Treatment
Metabolic surgery is the surgical treatment for type 2 diabetes mellitus. Initially, it was only performed in cases of significant obesity with poor therapeutic management. Today we know that the procedure works for lesser degrees of obesity, with diabetes remission in approximately 80% of cases.
The Clinica Universidad de Navarra is a Centre of Excellence in Obesity Surgery and is accredited by the International Federation for the Surgery of Obesity (IFSO), the most prestigious international institution in this field.
We have an Obesity Area specialised in this disease. The Unit is composed of a multidisciplinary team of professionals and the most advanced technology for diabetes diagnosis and surgery.
Our surgeons and anaesthesiologists have more than 15 years of experience in managing the various specialised surgical, laparoscopic and anaesthetic techniques for bariatric and metabolic surgery. This experience results in benefits for the patient, as shown by our low rate of surgical and post-surgical complications.
Within 48 hours, the Clínica performs a complete patient assessment and offers a personalised treatment plan for each case.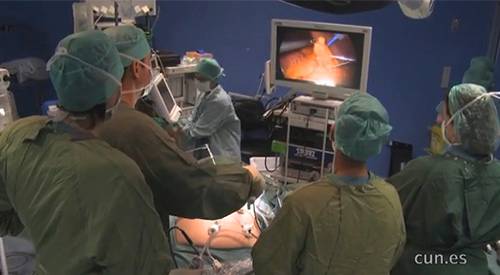 Story of a patient that solved her diabetes by a metabolic surgery. [Video only available in Spanish]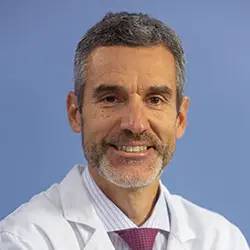 Metabolic surgery has not only shown to be beneficial for controlling diabetes but also for resolving associated diseases".
Metabolic surgery refers to the surgical treatment of type 2 diabetes mellitus.
Until recently, a proper diet, regular physical exercise and medical treatment were the three cornerstones for treating this disease, whose main cause is obesity.
Today, however, surgery represents an important new option with notable results, as demonstrated by published scientific studies with the accumulated experience of various centres that have applied this technique for years.
Initially, these operations were only performed for cases of significant obesity with poor therapeutic management. Today we know that the procedure works for lesser degrees of obesity, with diabetes remission in approximately 80% of cases. This high success rate does not mean that all patients with diabetes should undergo operations. Individuals who, for some reason, cannot follow their medical treatment or whose disease is difficult to control and those who have other metabolic problems despite following the proper measures are candidates, at least for a study that evaluates their suitability for this type of surgery.
In most cases, the Clinica Universidad de Navarra will perform a complete patient assessment by all specialists in less than 48 hours.
Protocol for metabolic surgery
First, patients are assessed by specialists of the Departments of Endocrinology and Nutrition, Internal Medicine and General Surgery. According to our centre's protocol, the specialists will conduct a medical history review and will request laboratory tests and reports from the responsible specialists.
A body fat measurement will also be conducted using the Bod-Pod, as well as indirect calorimetry, which enables us to determine each patient's energy expenditure.
Additionally, if the specialist considers it appropriate, other diagnostic tests will be performed:
Metabolic or diabetes surgery is performed with the same surgical techniques used for the surgical treatment of obesity.
The surgery seeks to modify the operation of the digestive system to achieve hormonal changes that improve or cure the diabetes.
The type of surgery will depend on the patient's clinical characteristics, potential complications, feeding behaviour and psychological profile.
Lastly, the specialised surgeon, in conjunction with the endocrinology and nutrition specialist, will establish the precise indication assessing the effectiveness, advantages and disadvantages of the various techniques.
you may

BE INTERESTED

Learn why the Clínica Universidad de Navarra is different from other hospitals.

Want to participate in our clinical trials? Learn which ones are active.

Know what we do for our international patients