Home >
Hearing Implants. Treatment
Hearing
implants
Hearing implants. Treatment at the Clínica
Cochlear Implants are used to resolve hearing problems and notably increase the patient quality of life.
The Clínica Universidad de Navarra is a national and international reference centre for hearing implants. We have a dedicated multidisciplinary team of professionals, made up of specialist doctors, nurses, hearing aid specialists and speech therapists.
Furthermore, we also work alongside other departments, such as Neurosurgery, to carry out certain implant surgery procedures. We have the most advanced technology for carrying out surgery and specific lines of both clinical and experimental investigation.
The Cochlear Implant Programme at the Clínica Universidad de Navarra began in 1989 and we have carried out over 1.000 implants, of which, approximately half were for children. The youngest patient operated on was just 5 years old and the oldest, 86.
We also have extensive experience in brain stem and bone conduction hearing implants for treating deafness when a cochlear implant is not a feasible treatment option.
Cochlear implants are recommended in the following hearing loss cases:
People who have profound or severe deafness, in both ears, which originates in the cochlear.
Hearing aids may have little or no effect and patients may wish to have a cochlear implant.
Unilateral deaf people
It is especially recommended when the deaf ear has very intense tinnitus which alters their quality of life
People with residual hearing
These patients are capable of picking up lower pitch sounds, and have low hearing abilities for medium or acute tone sounds. Furthermore, they have great difficulty understanding spoken words, even when using correctly fitted hearing aids.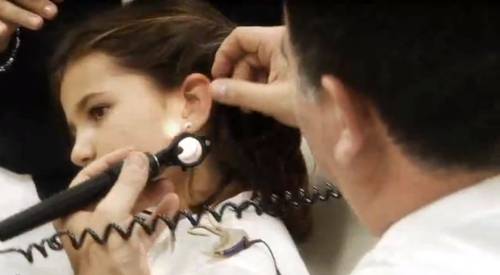 A cochlear implant is an electronic device which is capable of picking up sounds and transforming them into electrical stimulations. [Video available only in Spanish]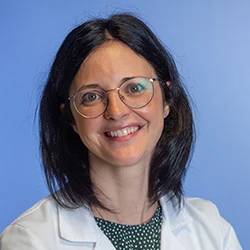 Hearing implants have made an incredible advance in the treatment of severe deafness. These implants are devices which transform electrical impulse into sound and stimulate the auditory nerve, in a similar manner to normal sounds in people without hearing problems".
The procedure lasts approximately an hour and a half and must be carried out under general anaesthetic.
This procedure carries certain risks, just like any other surgical operation on the inner ear. During the operation, the doctors confirm that the implant is positioned correctly. For this, they use radiology and neurophysiological studies (telemetry) that analyse the functioning of the implant's electrodes and supply useful information for the post-operation programming of the implant.
After the operation, the patient is hospitalised for approximately 48 hours. In general, the post operation period passes without any serious issues. The next day, the patient can eat, get out of bed and walk normally. When they are discharged, they can travel by any means of transport. However, they do not start hearing immediately after the operation.
It's necessary to wait around four weeks for the scar from the surgery to heal completely. Then, we are able to position the exterior components of the cochlear implant, before carrying out the first programming session.
Minimally invasive techniques
Installing a cochlear implant doesn't necessarily mean losing the rest of the ear ́s pre-existing hearing ability. These techniques help to maintain the optimum condition of the cochlea when facing new implants or for future treatments.
One or Two stage Operations
For bilateral cochlear implants, it's preferable to implant them both in one surgical operation. Nevertheless, in some cases in which the patient already has a cochlear implant, the second can be implanted in another surgical procedure.
The Clínica Universidad de Navarra is a reference centre for cochlear implant surgery, in both children and adults and in over 20 years' experience with the Cochlear Implant Programme; we have carried out over 800 implants.
A cochlear implant is an electronic device that is situated in the outer, middle, and inner ear, which is capable of picking up sounds and transforming them into electrical stimulations to transmit them to the auditory nerve and re-establish the flow of auditory information delivered to the brain.
Cochlear Implants are recommended for profound or severe deafness and notably increase the patient's quality of life.
This device is fitted subcutaneously and transmits vibrations from the skull bone. These are picked up by the inner ear as sound.
This is recommended for patients with conductive hearing loss.
The Otorhinolaryngology and Neurosurgery Department carry out this type of hearing implant procedure.
It's recommended for:
Patients who are suffering from a congenital disease which impedes the development of the inner ear and auditory nerve.
Patients with diseases that lesion the auditory nerve.
Functioning
Some electrodes are implanted on to the cochlear nuclei, in the brain stem, to re-establish the auditory pathway. In this way, the electrical impulse arrives at the auditory cortex (in the brain), where it is interpreted and is able to attach a meaning to the stimulation received.
Results
The results from brain stem auditory implants are very encouraging. The hearing levels achieved and the lower complications rate, mean that it is an excellent alterative for certain cases. For children, the sooner the implant and necessary stimulation is carried out, the more effective the treatment will be.
In general, the patients' quality of life notably improves. It also enhances patients' mood, mental wellbeing, personal and professional relationships and their general outlook on life. Patients experience more self-confidence and fewer issues with social integration.
you may

BE INTERESTED

Learn why the Clínica Universidad de Navarra is different from other hospitals.

Want to participate in our clinical trials? Learn which ones are active.

Know what we do for our international patients