KTP green laser for the prostate
"This is a minimally invasive endoscopic technique with clear advantages over conventional treatments".
DR. FERNANDO DÍEZ-CABALLERO ALONSO PERSON IN CHARGE. UROLOGY DEPARTMENT
Green Laser KTP vaporization for benign prostate hyperplasia is a green laser fiber (hence the nickname) that works by means of a light beam with a wavelength of 532 nanometers.
The green laser beam for the prostate produces the evaporation of 1 to 2 grams of prostatic tissue per minute, so that larger glands that until now were treated by open surgery could be treated with this minimally invasive technique.
The benefits achieved with the prostate photovaporization technique are: shorter hospital stay (1 day on average), less bleeding and a shortening of the time in which it is necessary to carry a urinary catheter.
In 24-48 hours the patient will be at home.
When is the KTP green laser indicated?
The advantages of the green laser technique over other treatments for benign prostate hyperplasia begin with the reduced hospital admission, 1 day on average.
The need for a probe is reduced in comparison with classic techniques. In addition, post-operative irritative symptoms affect 6% of patients and are always of short duration.
The absence of blood transfusion and the return to normal activity within a few days are noteworthy.
Most frequent indications:
Have you been diagnosed with benign prostatic hyperplasia?
You may need to have a KTP green laser treatment
How is the KTP laser treatment performed?
The procedure is performed in a properly equipped operating room in a hospital environment.
The duration of the operation depends on different factors, the main one being the size of the prostate and the general condition of the patient.
This advanced laser system is used to drive the laser light endoscopically through a specially designed optical device. These light impulses are directed towards the prostate and quickly and gently vaporize and completely remove the obstructing tissue. The laser itself seals the surgical site, preventing bleeding.
It is performed under regional or total anesthesia. The patient returns home after an average of 24 hours and can return to work a few days after the intervention.
Where do we do it?
IN NAVARRE AND MADRID
The Department of Urology
of the Clínica Universidad de Navarra
The Department of Urology of the University of Navarra Clinic offers the patient a medical team, composed of first-rate professionals, and state-of-the-art diagnostic and therapeutic means such as the Da Vinci® robotic surgery.
The Department of Urology possesses the certificate of accreditation of the European Board of Urology, a reinforcement of the excellence of the service at the level of care, teaching and research, which in Spain only three hospital centers possess.
Diseases we treat:
Genitourinary Prolapses

Pediatric Urology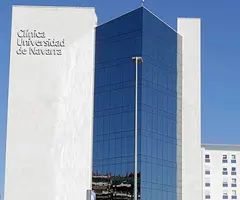 Why at the Clinica?
A team of top-level professionals trained in international centers.
State-of-the-art technology for diagnosis and treatment.
In 24-48 hours you can start the most appropriate treatment.
Our team of professionals
Urology specialists with experience in green laser treatment