Endobronchial valves
"We are one of the two Spanish centers that have participated in a European clinical trial on endobronchial valves and one of the most experienced in our country with this technique".
DR. LUIS SEIJO DIRECTOR. PNEUMOLOGY DEPARTMENT
The Clínica Universidad de Navarra is a pioneer in the use of endobronchial valves for the management of severe emphysema.
The endobronchial valves are designed for:
Redirect the flow of air to the healthiest parts of the lung.

Improve health status.

Improve quality of life.

Although the valves have been designed to remain in the patient's bronchial tubes indefinitely, their design also facilitates, if necessary, their removal by means of a bronchoscopy.
When are endobronchial valves indicated?
They are indicated in those patients in which the pulmonary disease has evolved and whose quality of life is very deteriorated.
Emphysema, a variant of COPD, is a common respiratory pathology, without curative treatment, affecting the small airways or alveoli.
This circumstance affects the exchange of gases, limits exhalation, and is accompanied by coughing and breathing difficulties.
The most frequent cause of this disease is the consumption of tobacco.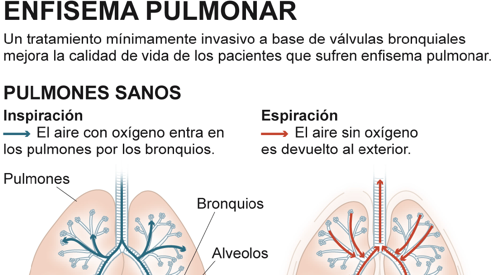 Learn about pulmonary emphysema (available in spanish)
Most frequent indications for this treatment:
Are you diagnosed with pulmonary emphysema?
You may need to have endobronchial valves placed
Endobronchial valves are placed by performing a bronchoscopy under general anesthesia or sedation.
The approximate duration of the procedure is 1 hour, although it will depend on the amount of valves that are implanted.
During the minimally invasive procedure, a catheter is placed through the working channel of a bronchoscope (flexible endoscope capable of reaching and exploring the bronchi).
Several umbrella-shaped valves are inserted into the airways leading to the upper lobes of both lungs.
Where do we do it?
IN NAVARRA AND MADRID
The Department of Pneumology
of the Clínica Universidad de Navarra
Specializing in smoking and tobacco-related diseases, the Department has over 15 years of experience in smoking cessation and lung cancer early detection programs.
The department's specialists have received training at leading centers around the world, including centers in the United States, and have extensive experience in the diagnosis and treatment of all respiratory diseases, both common and rare.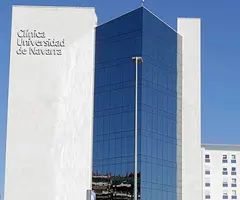 Why at the Clínica?
Leading clinical assistance with great work in research and teaching.
Specialized nursing team.
We work together with the Sleep Unit and the Lung Cancer Area.
Our team of professionals