Home >
DISEASES >
Diagnosis and treatment of prostate cancer
Prostate
cancer
diagnosis and

treatment of prostate cancer
To prolong life expectancy, prostate cancer treatment includes surgery, external radiation therapy, brachytherapy, hormone therapy and active surveillance.
At the Clinica Universidad de Navarra, we treat a considerable number of patients with interstitial brachytherapy, with excellent results, achieving tumour control in 95% of the cases.
At our centre, interstitial brachytherapy implantations are performed in a CT-equipped operating room, where the surgical procedure and implantation are performed with maximum safety and excellence.
In terms of surgical treatment, the Clínica has been a pioneer in the use of robotic surgery for prostatectomy, which results in significant advantages for the patient.
The Clínica's Department of Urology is accredited by the European Board of Urology for the excellence of its health care, teaching and research.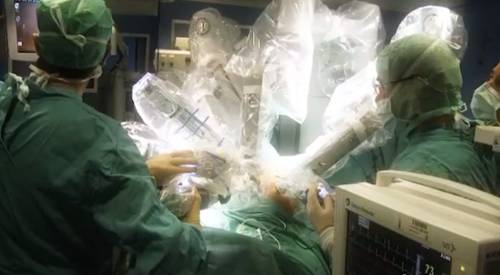 Prostate cancer is the most common malignant tumour in men. [Video only available in Spanish]
Thanks to technical advances in diagnosis, cancer can now be detected more quickly and the treatment can be more decisive".
The Clínica's Department of Urology, along with the Department of Oncology, conducts an early diagnosis programme for individuals older than 50. In less than 48-72 hours, we can determine if there is any prostatic problem.
The main measure for the early detection of prostate cancer is a medical check-up and a blood test to measure prostate-specific antigen (PSA) levels.
If there is a clinical suspicion of prostate cancer, the diagnosis is confirmed through a prostate biopsy.
The surgery is known as radical prostatectomy. Consists of the complete extraction of the prostate and part of the surrounding tissue, along with the seminal vesicles. The procedure is conducted in the operating room and under general anaesthesia. It can be performed using open surgery or through laparoscopy, which improves the patient's recovery.
Robotic surgery
The Clínica has the Da Vinci® robot, a next-generation technology, for performing these types of operations with minimum risk and maximum precision. The advantages for the patient are better urinary control, a reduced risk of sexual impotence after the surgery and less bleeding during the surgery.
The Clínica has been a pioneer in the use of the Da Vinci® robot for prostatectomy, among other types of surgery.
External three-dimensional conformal radiation therapy (3D-CRT)
This technique accurately locates the tumour and effectively protects healthy organs from radiation.
Thanks to CT technology in the design of radiation treatments, it is possible to more accurately delimit the various structures in the treatment fields.
Another advance in this technique is the development of three-dimensional (3D) treatment planning, based on complex computer systems that calculate the distribution of the radiation dose on the various structures.
Permanent interstitial brachytherapy
This is a radiotherapy treatment that consists of accurately placing radioactive sources within the tumour or adjacent to it.
The Clinic has been a pioneer in this technique and is an international reference centre in the use of brachytherapy for the treatment of cancer.
Compared with external radiation therapy, the procedure reduces the involvement of healthy tissue, enabling an increase in radiation up to high-dose rates, improving the therapeutic effectiveness.
The most common permanent implant in the clinical setting is the low-dose-rate iodine-125 beads. This type of implant provides excellent results in controlling the disease in low-risk tumours, with results similar to those of surgical treatment or with very high doses of external radiation.
The procedure is performed in a single session, as opposed to external radiation, which is performed in 30 to 35 sessions. There is a high possibility of preserving sexual function and a very low possibility of causing incontinence as compared with surgery.
Hormonal blockade, chemotherapy and drugs
Systemic treatment is applied when the prostate cancer is disseminated and affects other tissues and organs.
The treatment is performed using hormonal blockade with luteinizing-hormone-releasing-hormone inhibitors, antiandrogens and antifungals, among others.
When the tumour cells are resistant to hormones, a second line of treatment is established using chemotherapy. This is especially indicated for symptomatic patients or those who have a high tumour burden.
Pharmacological research for prostate cancer resistant to hormone therapy has two new medicinal products, which are especially useful after the progression of the disease despite treatment with docetaxel:
Cabazitaxel, which has a similar mechanism of action to docetaxel but significantly increases patient response and survival.
Abiraterone, which is not a chemotherapy drug but rather a hormonal agent. This drug is administered orally. It has demonstrated a clear benefit for patients treated with docetaxel whose tumours progress.
Other drugs are currently in development in the clinical trial phase, and some have been shown to have an effect, such as mitoxantrone, vinorelbine, paclitaxel and cyclophosphamide.
learn more about our

ROBOTIC SURGERY TECHNOLOGY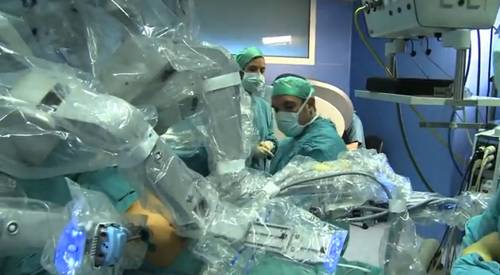 The Clínica improves their surgeries with the Da Vinci robot technology. [Video only available in Spanish]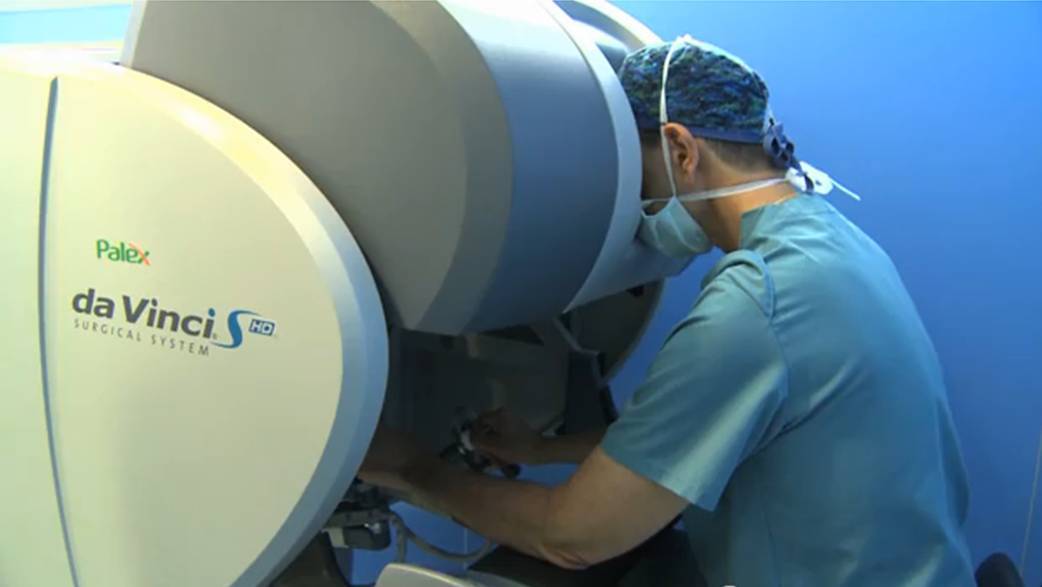 Obstructive sleep apnea can lead to strokes or cardiomyopathies. [Video only available in Spanish]
Learn all about the robotic system Da Vinci. [Infographic only available in Spanish]
Download document
Latest technology
To improve your health and quality of life, we have the Da Vinci® Robot for performing minimally aggressive surgery.
Less invasive surgery
Reduces the hospital stay and the risk of bleeding, which are significant benefits for the patient.
Assistance for the surgeon
When access is difficult or maximum precision is required, robotic surgery can assist the surgeon.
you may

BE INTERESTED

Learn why the Clínica Universidad de Navarra is different from other hospitals.

Want to participate in our clinical trials? Learn which ones are active.

Know what we do for our international patients