Cancer of the prostate
"No institution in Spain, and few worldwide, has all the combination of state-of-the-art diagnostic means that allow us to offer the most personalized treatment possible for prostate cancer".
DR. BERNARDINO MIÑANA LÓPEZ
DIRECTOR. UROLOGY DEPARTMENT
Prostate cancer is the most common malignant tumor in men in the European Union, although it is exceedingly rare before the age of 50. Ninety percent of cases occur in men over 65.
Advances in imaging techniques and early detection programs for prostate cancer now make it possible to diagnose the disease in its early stages in 70% of patients.
Therapeutic advances in the fields of surgery and radiotherapy mean that currently localized prostate cancer treatments are associated with a 10-year survival rate of almost 100%.
A multidisciplinary approach, with joint or sequential action from the different specialties involved (urology, radiology, pathology, radiotherapy and medical oncology), is the very best scenario for guiding and treating our patients.
The Clínica's Urology Department, together with the Oncology Department, runs an early-diagnosis program for men over 50. These programs are vitally important, because prostate cancer often produces no symptoms but can be detected during routine screenings.

Second Opinion,
peace of mind
Request a second opinion from our professionals with great experience in the diagnosis and treatment of oncological diseases
In 3 days, without leaving home.
What are the symptoms of prostate cancer?
Prostate cancer does not have a characteristic clinical presentation. Diagnosis is often made based on a routine medical checkup of an asymptomatic patient.
On occasion, the disease first manifests through increasing difficulty in urination or due to blood in the urine.
It may also present without any symptoms related to urination, instead showing with symptoms due to the spread of the disease outside the prostate, in particular bone pain.
Do you have any of these symptoms?
You may have prostate cancer
"The first step in combating prostate cancer is an early diagnosis that is as accurate as possible."
All the keys to this disease from our best experts, Dr. Bernardino Miñana, co-director of the Department of Urology, Dr. Macarena Rodríguez Fraile, specialist of the Nuclear Medicine Service, Dr. Javier Aristu Mendióroz, clinical director of the Proton Therapy Unit. Dr. Macarena Rodríguez Fraile, specialist of the Nuclear Medicine Service, Dr. Javier Aristu Mendióroz, clinical director of the Proton Therapy Unit.
What are the causes and risk factors?
Age is one of the main risk factors for prostate cancer. In fact, more than 70% of cases occur in men over 50.

Another aspect that must be taken into account is the existence of genetic factors. Family history doubles the risk of suffering the disease, especially when two or more direct first-degree relatives (father or brothers) are affected by prostate cancer.

There is no proven link between prostate cancer and having had a sexually transmitted disease or vasectomy.

Health habits also influence the possible appearance of prostate cancer and are closely related to poor nutrition, obesity and sedentary lifestyles.

Smoking is another factor that may favor the appearance of this cancer, since it increases hormone secretion, which makes the tumor grow.

Race is another risk agent. It occurs about 70% more often in African-American men.
How is prostate cancer diagnosed?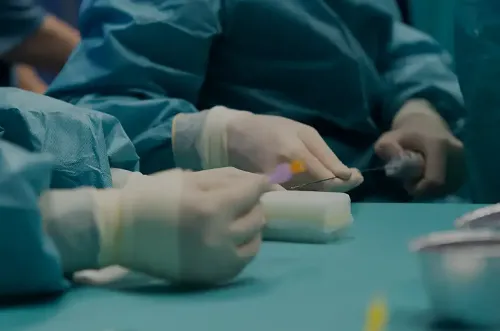 The Urology Department, along with the Hospital's Oncology Department, runs an early-diagnosis program for men over 50. If there are any prostate problems, we can provide a diagnosis in 48–72 hours.
The main procedure used for early detection of prostate cancer is a medical checkup and a blood test that includes a determination of the patient's level of prostate-specific antigen.
If there is clinical suspicion of prostate cancer, the diagnosis is confirmed through a prostate biopsy.
Rectal exam

PSA and prostate cancer

Transrectal ultrasound

Prostate biopsy
How is prostate cancer treated?
The surgery is called a radical prostatectomy.
It consists of the complete removal of the prostate and some of the surrounding tissue, along with the seminal vesicles.
It is carried out in the operating theater under general anesthetic. It can be done via open surgery or by laparoscopy, which improves the patient's recovery.

Robotic surgery
The Hospital features a Da Vinci® robot—state-of-the-art robotic technology—to perform this type of operation with minimum risk and maximum precision.
The advantages for the patient are better urination control, reduced risk of sexual impotence after the operation and less bleeding during surgery.

The Clínica has pioneered the use of the Da Vinci® robot for prostatectomies, among other surgeries.
Three-dimensional conformal radiation therapy
Three-dimensional conformal radiation therapy precisely locates the tumor and effectively protects healthy organs from radiation.
Using CT technology in radiation treatment design, the different structures of the treatment fields can be delimited with greater precision.
Another advance in this technique is the development of three-dimensional treatment planners based on complex computerized calculation systems that make it possible to estimate the distribution of the radiation dose over the different structures involved.
Permanent interstitial brachytherapy
This is a radiation therapy that involves precisely placing radioactive sources within or near the tumor.
The Hospital has been a pioneer in this technique and is an international reference center in the use of brachytherapy for cancer treatment.
Compared to external radiotherapy, it reduces damage to healthy tissues, making it possible to increase radiation up to high dose rates, improving therapeutic efficacy.
The most frequent permanent implant in the clinical setting uses low-rate emitters with iodine-125-labeled seeds. This produces excellent results in controlling the disease in low-risk tumors; the results are identical to those obtained with surgical treatment or with extremely high doses of external radiation.
The treatment can be carried out in a single session. By contrast, external radiation requires 30–35 sessions. The chances of preserving sexual function are high, and the chance of causing incontinence is extremely low compared to surgery.
Systemic treatment is applied when prostate cancer is widespread and affects other tissues or organs.
The treatment is carried out by means of hormonal blockade with LH-RH inhibitors, antiandrogens and antifungal medications, among others.
When the tumor cells become resistant to hormones, a second line of chemotherapy treatment is considered. This is especially indicated for patients who are symptomatic or have a high tumor burden.
Pharmacological development for prostate cancer resistant to hormonal treatment has opened the doors to two new drugs, which are particularly useful after the spread of the disease despite treatment with docetaxel:
Cabazitaxel, similar to docetaxel in its mechanism of action, but significantly increases patient responses and survival rates;
Abiraterone, not a chemotherapy drug but a hormonal agent. Administered orally. It has shown a clear benefit for patients treated with docetaxel whose tumors are progressing.
Other drugs are in development in the clinical trial phase, and some have demonstrated positive results in fighting the disease, such as mitoxantrone, vinorelbine, paclitaxel and cyclophosphamide.
What clinical trials do we have on Prostate Cancer?
360º PERSONALIZED MEDICINE
Prostate Center
The Prostate Center of the Clinica Universidad de Navarra is the first in Spain to offer the entire diagnostic and therapeutic arsenal for the management of prostate cancer.
A personalized medicine based on the most advanced diagnostic and therapeutic technology, a team of professionals with a high level of experience in its management, and the multidisciplinary approach centered on the patient and his or her needs, accompanied by a highly specialized nursing team.
Where do we treat it?
IN NAVARRE AND MADRID
The Department of Urology
of the Clínica Universidad de Navarra
The Department of Urology of the University of Navarra Clinic offers the patient a medical team, composed of first-rate professionals, and state-of-the-art diagnostic and therapeutic means such as the Da Vinci® robotic surgery.
The Department of Urology possesses the certificate of accreditation of the European Board of Urology, a reinforcement of the excellence of the service at the level of care, teaching and research, which in Spain only three hospital centers possess.
Diseases we treat:
Genitourinary Prolapses

Pediatric Urology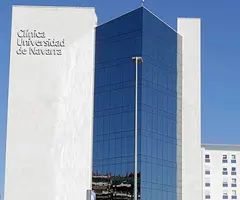 Why at the Clinica?
A team of top-level professionals trained in international centers.
State-of-the-art technology for diagnosis and treatment.
In 24-48 hours you can start the most appropriate treatment.
Our team of professionals