Ovarian Cancer
"The approach to ovarian cancer requires highly specialized multidisciplinary care".
DR. ANTONIO GONZÁLEZ MARTÍN
CODIRECTOR. MEDICAL ONCOLOGY DEPARTMENT
Cases of ovarian cancer usually occur after menopause, although they can occur in young women with a family history of breast or ovarian cancer due to a mutation in the BRCA gene.
Ovarian cancer can be prevented in women with this predisposition by removing the ovaries and tubes when there is no longer a desire for further pregnancies.
These mutations also make the tumor itself more fragile, meaning we can treat it using newer, targeted drugs that destroy it with greater ease.
In advanced disease, patients may relapse, and the prognosis in these cases depends on the disease-free interval as well as the sensitivity to chemotherapy.
The longer the relapse-free interval, the greater the sensitivity to chemotherapy and the longer the survival time.
In many cases, we see a deadly disease converted into a chronic disease with a long progression.

Second Opinion,
peace of mind
Request a second opinion from our professionals with great experience in the diagnosis and treatment of oncological diseases
In 72 hours, without leaving home.
What are the symptoms of ovarian cancer?
There are no specific symptoms, and the disease is often confused with symptoms of the digestive system and bladder, particularly if symptoms are persistent.
The most common symptoms include abdominal swelling, bloating, poor digestion, constipation or diarrhea, as well as a frequent urge to urinate.
There may also be loss of appetite or weight for no apparent reason. Sometimes genital symptoms appear, such as menstrual disorders, post-menopausal bleeding or pain during sexual intercourse.
The most common symptoms are:
Abdominal swelling.

Poor digestion.

Frequent urge to urinate.

Changes to the menstrual cycle.

Unintentional weight loss.
Do you have any of these symptoms?
You may have ovarian cancer
What are the causes?
The exact cause of ovarian cancer is still unknown, although various theories agree on the fact that incessant ovulation may play a role due to the consequent scarring that occurs on the surface of the ovary.
The possible association with chronic inflammatory processes or a certain hormonal environment has also been suggested, such as with androgens in polycystic ovary syndrome, or an elevation of gonadotropins during menopause.
What are the risk factors?
The main risk factors are:
Inheritance of mutated genes such as BCRA1 and 2, which is also related to the risk of developing ovarian cancer. Hereditary nonpolyposis colorectal cancer syndrome.

Family history: sometimes ovarian cancer can develop in more than one family member, but this is not related to known hereditary factors.

Patient medical history of breast cancer.

Age: occurs more frequently following menopause.

Fertility: not having had children. Having undergone ovulation-inducing treatments, although this seems more related to the context of sterility itself than to the medication.

Estrogen-only hormone replacement therapy.

Obesity or a high-fat diet.
How is ovarian cancer diagnosed?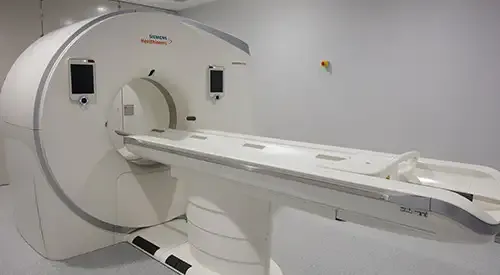 The chances of survival when this type of cancer appears are strongly linked to whether it has spread outside the ovary. Upon initial diagnosis, the cancer has not spread beyond the ovary in only about 20% of cases.
Ovarian cancer is diagnosed via:
Clinical examination.

Transvaginal or transrectal ultrasound—a test with extremely high diagnostic accuracy.

Tumor markers in the blood, especially CA-125.

Imaging tests: CT, abdominal ultrasound or MRI.

Surgical exploration to confirm and treat the disease in the abdomen.
How is ovarian cancer treated?
The golden rule for treating ovarian cancer is complete removal (exeresis) of the visible disease or at least attempting to leave a maximum area of residual disease measuring less than 1 cm.
This approach has been shown, along with effective chemotherapy, to significantly improve the cure rates for patients suffering from this disease. To achieve this goal, various surgical procedures must be performed within the abdomen.
These procedures not only include the removal of the uterus and ovaries but also affect the lymph nodes, some segments of the intestine, peritoneum, urinary tract, spleen or any metastasis in the liver, among other parts of the body. This sometimes requires that the surgical team develop a strategy involving intervention by both a gynecological oncologist and a surgeon specializing in intraperitoneal surgery for cancers.
For some years now, it has been recommended that the postoperative chemotherapy treatment should also include hyperthermic intraperitoneal chemoperfusion in cases where optimal surgical approaches have been possible from the outset. Recent studies have shown that this strategy, combined with the complete removal of the disease as mentioned above, achieves the best results.
Our center has over twenty years of experience in the administration of hyperthermic intraperitoneal chemoperfusion.
Currently, and based on the same principles, hyperthermic intraperitoneal chemoperfusion (HIPEC) is applied during surgery following resection of diseased tissue: this technique is becoming widespread among some reference centers for treating this disease.
Sometimes, given the areas affected by the disease, it does not seem possible to achieve the ideal goal of what is termed "optimal cytoreduction," i.e. leaving no residual disease behind.
This assessment is based on the findings of imaging tests (CT, PET–CT) and direct information obtained through laparoscopy, making it possible to easily obtain better information about the extent of the disease and to take the necessary biopsies to determine the tumor type (sometimes it may not be of ovarian origin and might require another approach).
Compared with laparotomy, where a large incision is made in the abdomen, this technique allows treatment with neoadjuvant chemotherapy (NAC), which is associated with new antiangiogenic treatment to be started within a few days if the possibility of optimal surgery is ruled out.
NAC is used to reduce the tumor volume, usually after three or four cycles, so that the desired surgical treatment can be carried out (interval surgery), which has the same goal as in primary surgery: to leave no visible disease behind.
Naturally, where necessary, this requires the same strategy for technical procedures and the use of the same surgical equipment as for the initial surgery. After this surgery, the patient completes treatment with a few more cycles of chemotherapy.
Some ovarian cancer patients may experience a relapse. In this case, depending on the time elapsed since the end of chemotherapy until the relapse diagnosis and the location and extent of the disease (in the liver, spleen, pelvic bone metastases or exclusively intestinal, etc.), these patients would once again be candidates for surgical treatment to pursue the same goal, i.e. to not leave any visible residual disease.
This would require a strategy similar to the treatment of the disease when it first appeared: appropriate surgery followed by chemotherapy.
Proton therapy against cancer
Proton therapy is the most precise external radiotherapy modality, providing better distribution of radiation dose and therefore less irradiation of healthy tissues.
The Proton Therapy Unit of the Clínica Universidad de Navarra in its Madrid headquarters is the most advanced in Europe and the first in a Cancer Center, with all its healthcare, academic and research support.
Where do we treat it?
IN NAVARRE AND MADRID
OUR MEDICAL TEAM
Specialists from the Department of Medical Oncology
Prevention and early detection are the most effective weapons we have in the fight against cancer. Therefore, together with the Genomic Medicine Unit, we have five programs: breast cancer, lung cancer, colon cancer, melanoma and prostate cancer.
We have a Day Hospital, with highly qualified staff, which offers specialized outpatient care to oncology and hematology patients.
Organized in care areas
Melanoma.

Bone and soft tissue tumors.

Brain tumors.

Gastrointestinal tumors.

Genitourinary tumors.

Gynecological tumors.

Tumors of breast.

Tumors of head and neck.

umors of lung and thorax.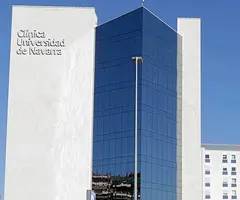 Why at the Clinica?
International reference experts in the diagnosis and treatment of cancer.
Leaders in oncological clinical trials to offer new therapeutic alternatives.
The most advanced technology on the market for cancer treatments.
Our team of professionals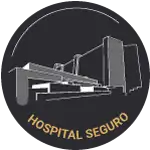 Safer than ever to continue taking care of you
We update safety protocols weekly with the latest scientific evidence and the knowledge of the best international centers with which we collaborate.