Obesity
diagnosis and

treatment of obesity
The Clínica is a centre of excellence in the treatment and surgery of obesity and is accredited by the European Association for the Study of Obesity and by the International Federation of Bariatric Surgery. These accreditations certify our ability to diagnose and treat this disease in accordance with criteria of excellence.
We offer various therapeutic alternatives adapted to the specific characteristics of each patient: individual medical plans, personalised nutritional follow-up, intragastric balloon, bariatric and metabolic surgery and aesthetic techniques to improve the results.
Our Obesity Area is composed of a team of professionals from various specialties. In less than 48 hours, our specialists can perform a full patient assessment following our obesity protocol. The objective is to achieve an agreed-upon proper body weight for each patient in a gradual and sustained manner.
We have a Metabolic Research Laboratory directed by Dr. Frühbeck, one of the Clínica's specialists and president of the European Association for the Study of Obesity.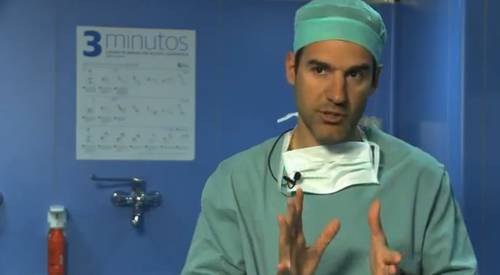 Story of an obese patient who was operated with bariatric surgery. [Video only available in Spanish]
Diets should be balanced and individualised, given that each individual requires their own food plan according to their needs".
1. Medical history and personalised dietetics prepared by specialists in the Department of Endocrinology and Nutrition.
A detailed medical history review and appropriate measurement tests will be conducted (weight, height and additional measures such as waist circumference and skinfold).
2. Measurement of body fat with the Bod-Pod and indirect calorimetry, which help us determine the individual energy expenditure of each patient. These tests, which are not available in all hospital centres, are performed in the Clinic on a routine basis for all of our patients.
3. Other diagnostic tests
When a patient has associated diseases, it is essential that we determine the state of each disease to establish the best treatment. To this end, the specialist will indicate the need for other tests such as polysomnography, heart tests, abdominal ultrasonography and bone densitometry.
The comprehensive treatment of obesity at the Clínica's Area of Obesity is performed on an individual basis, establishing the most appropriate strategies for each patient.
The objective is to achieve an agreed-upon proper body weight for each patient in a gradual and sustained manner.
To achieve this goal, there are various alternatives that start with conservative treatment, based on diet and lifestyle changes for each individual. When necessary, there are endoscopic and surgical techniques that help the patient achieve this weight loss.
We have a team of nurses and nutritionists who are highly specialised in caring for patients with obesity problems.
Our nurses and nutritionists at the Department of Endocrinology and Nutrition will:
Assess patients to ensure that the dietary treatment and nutritional plan are completely personalised for each patient.
Design tailored diets, taking into account each patient's habits, circumstances and nutritional needs and according to the calculation of caloric expenditure measured by indirect calorimetry.
Provide nutritional education to involve the patient in the treatment of their disease.
Perform medical examinations such as the body composition study using the Bod-Pod and the baseline energy expenditure study using calorimetry.
Carry out face-to-face and remote follow-up to achieve and maintain the agreed-upon objectives.
our diagnostic

and therapeutic system
you may

BE INTERESTED

Learn why the Clínica Universidad de Navarra is different from other hospitals.

Want to participate in our clinical trials? Learn which ones are active.

Know what we do for our international patients