Hepatocarcinoma
learn more about

hepatocarcinoma
Hepatocarcinoma is the most common primary liver tumour.
It represents the fifth cause of death by cancer worldwide, and 5,000 to 8,000 new cases occur in Spain every year.
We currently have a wide assortment of treatments: liver transplantation, resection surgery, radiofrequency ablation, chemoembolisation and radioembolisation. In recent years, drugs have been developed that are able to act systemically during different stages of the disease.
The Clinica Universidad de Navarra has more than 25 years of experience in the treatment of this tumour. Our objective is to offer the best treatment and conduct lines of research that will help us discover new therapies. Our centre is the leader in research in this area.
The living donor liver transplantation. [Infography only available in Spanish]
Download document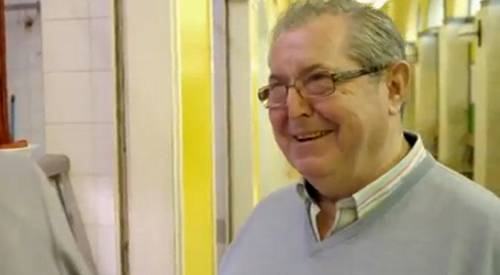 Story of liver transplantation from living: donation of a daughter to her father. [Video only available in Spanish]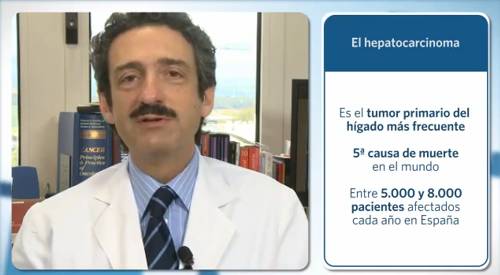 Incidence and treatment of hepatocellular carcinoma. [Video only available in Spanish]
In many cases, hepatocarcinoma does not present any symptoms until very late stages of its development. This is due to the fact that the interior of the liver does not feel pain and can store a considerable quantity of tumour without causing any symptoms. In exceptional cases, small tumours can result in symptoms because they obstruct the bile duct, which causes jaundice, or they can rupture and produce haemorrhaging.
When faced with any symptom, visiting a specialist is recommended.
When the tumours increase in size, without causing problems, they end up causing intense fatigue, lack of appetite, unmotivated weight loss, pain below the right ribs and itching.
Hepatocarcinoma, in Spain and in other Western industrialised countries, almost always occurs as a result of long-standing liver disease, which in most cases is chronic hepatitis. Most patients are older than 40.
The hepatitis B and C viruses sometimes produce cirrhosis, and some patients with cirrhosis develop liver tumours. Cirrhosis from other causes, such as alcohol consumption and metabolic disorders, also predisposes patients to the onset of hepatocarcinoma.
In the parts of the world where liver cancer is more common (Southeast Asia and Africa), hepatocarcinoma are produce with much greater frequency without the need for previous liver cirrhosis. In these regions, patients generally become ill at an earlier age (before 40).
Once the new liver has been implanted, the immune system recognises it as a foreign body and attacks the new organ. To prevent rejection, there are drugs known as immunosuppressants. These must be taken throughout the patient's life.
The patient should eat healthy food and maintain a balanced diet, controlling their glucose levels and fat intake. They must not drink alcohol.
Physical exercise is recommended, as well as healthy hygiene habits: body, wardrobe and housing. Furthermore, exposure to the sun should be avoided as much as possible.
In the Clínica, a nurse's report is delivered to the transplant patient with all the care instructions for the first few days.
After undergoing treatment with Yttrium-90 microspheres, the patient should follow a number of recommendations to feel better and avoid complications.
As a precautionary measure, the patient might receive additional medication such as analgesics, anti-inflammatory drugs and drugs for nausea and ulcers to prevent or reduce adverse effects as much as possible.
A special diet is not necessary, but good bathing hygiene is important. Women of childbearing age should avoid getting pregnant during the two months after treatment. Nursing mothers should not breastfeed their baby during the two weeks following the treatment.

One of the main advances for hepatic transplants has been lie the experience of the health teams in the administering medication and using the new drugs that we now have at our disposal."
you may

BE INTERESTED

Learn why the Clínica Universidad de Navarra is different from other hospitals.

Want to participate in our clinical trials? Learn which ones are active.

Know what we do for our international patients