Anorexia nervosa
"It is very important that parents go to the doctor, because patients often deny the symptoms and try to hide the seriousness of the problem".
DR. AZUCENA DÍEZ SUÁREZ
SPECIALIST. PSYCHIATRY AND CLINICAL PSYCHOLOGY DEPARTMENT

Anorexia nervosa is an eating behavior disorder characterized by a restriction of food intake, resulting in significant weight loss that remains below the minimum expected for each patient's age, sex, or developmental milestones, sometimes to a state of severe malnutrition.
This weight loss is caused by the patient herself, through a decrease in food intake that is often accompanied by behaviors aimed at weight loss: self-provoking vomiting, use or abuse of laxatives and diuretics or the practice of intense physical exercise.
Most of the times they are treated in external consultations, although in some more serious cases hospitalization is necessary for re-feeding or stabilization of medical problems (malnutrition, dehydration).

Do you need a remote second opinion?
Our professionals will provide you with a medical evaluation without you having to leave your home.
What are the symptoms of anorexia nervosa?
The main symptoms of anorexia nervosa are:
Intense fear of gaining weight.

Distortion of body image or looking fat despite being very thin.

Reduction of weight below normal until reaching malnutrition.

As a consequence of extreme thinning, some physical signs appear such as dry and rough skin, hair loss, loss of menstruation for at least 3 consecutive cycles.

Psychopathological symptoms such as states of sadness, anguish, irritability or social isolation.

The personality of these patients is usually one of perfectionism and self-demanding in their lives, which is accompanied by low self-esteem.
What are the most common symptoms?
Distortion of body image

Malnutrition

Digestive disorders

Lack of calcium

Biochemical alterations in the blood
In addition, there are so-called unspecified eating disorders, which are incomplete forms that do not meet all clinical criteria but cause problems.
In these cases, it is not necessary to wait until the weight is much lowered or the period is lost to start treatment.
Do you have any of these symptoms?
You may have anorexia nervosa
What are the causes of anorexia nervosa?
The cause of this disease is multifactorial and the clinical symptomatology represents the end of the interaction of three types of factors:
Predisposing factors: individual, family and cultural.
Precipitating factors: crisis situations, such as affective losses or the beginning of a strict diet due to personal or body dissatisfaction.
Perpetuating factors: malnutrition clinic and associated affective clinic (anxiety, depression...)
From these factors, a restrictive diet of thinning can trigger the problem. There are also genetic factors, since first degree relatives (parents, children, siblings) of a patient with anorexia have a 6-10 times higher risk of developing an eating behavior disorder. In addition, a history of depression in a family member increases the risk of anorexia.
What are the complications of anorexia nervosa?
There are a number of medical complications and physical risks from severe malnutrition such as digestive disorders (from binge eating, vomiting, laxative use), heart problems (from malnutrition), biochemical alterations in the blood (low potassium or sodium), endocrine or hormonal changes and lack of calcium in the bones.
In this sense, it has been shown that bone decalcification and osteoporosis are more frequent in girls with anorexia. This osteoporosis causes adolescent girls to have decalcified bones at the same level as a woman in her 50s and 60s.
In addition, there are other psychiatric problems that are often associated with eating disorders. Anorexia is associated with depression, dysthymia, and obsessive-compulsive disorder.
How is anorexia nervosa diagnosed?
These are patients who, as a rule, do not initially ask for help voluntarily, but rather arrive at the professional's office through parents or teachers, when the process has already been established.
For the establishment of the diagnosis, it is done:
Diagnostic interview.

Discard of organic disease by means of magnetic resonance, general and specific analyses and evaluation by other specialists (endocrinologists).

Psycho diagnostic tests.
Learn what it is, how anorexia nervosa is diagnosed and treated (available in spanish)
How is anorexia nervosa treated?
The participation of the family is fundamental as a support in the healing process
Treatment is carried out by a team with different specialists, usually led by a child psychiatrist or psychiatrist. It must be done:
A plan for weight recovery and dietary and nutritional re-education.
A very close follow-up so that the recovery of the weight is gradual, with frequent controls.
A study and treatment of the problems in the diet that affect the patient, as well as of the factors that influence the vomits (anxiety for the school, problems with the parents or friends).
A psychiatric treatment where psychoeducation, individual psychotherapy, group psychotherapy and family therapy are combined.
Pharmacological treatment with antidepressants and other psychopharmaceuticals that improve the symptoms of anxiety, sadness, and impulsivity underlying vomiting behaviors and treat other problems associated with anorexia.
The treatment to be carried out must be in accordance with the patient's clinical situation, always coordinating the intervention of the different specialists involved in the treatment.
Where do we treat it?
IN NAVARRE AND MADRID
The Department of Psychiatry and Medical Psychology of the
of the Clínica Universidad de Navarra
Through a multidisciplinary work, the Department of Psychiatry and Clinical Psychology assists patients in a comprehensive way: it identifies the main causes of the disease and provides an individual approach with the most appropriate and effective treatments.
Thanks to the experience of its team, it is able to offer the most advanced biological therapies, as well as an adequate psychotherapeutic orientation. In this way, the patient is helped to solve both personality problems and alterations in interpersonal and family dynamics.
Organized in specialized units
Adult Psychiatry.

Psychiatric hospitalization.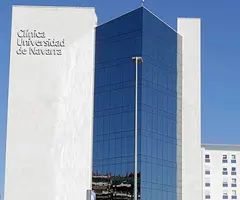 Why at the Clinica?
Integral evaluation of the patient.
Personalized diagnosis.
Multidisciplinary team.
Our team of professionals

Navarre headquarters
Madrid headquarters