Urodynamic study
"A urodynamic study is performed with very advanced technology and is one of the most modern ways of analyzing the urinary system".
DR. FELIPE VILLACAMPA SPECIALIST. UROLOGY DEPARTMENT
The urodynamic study is a test to study bladder function.
The purpose of this study is to provoke and reproduce the patient's symptoms and obtain a graphic record of what is observed.
In addition, it can measure a number of variables such as the flow of urine that a patient is able to produce with a voluntary contraction of the bladder, bladder capacity and the pressure it generates, the pressures exerted by the sphincter, etc.
The urodynamic study allows us to discover what type of condition the patient is suffering from in order to make appropriate treatment decisions.
When is the urodynamic study indicated?
Thanks to this type of testing, a large number of aspects can be learned:
It allows an exact topography of a urinary obstruction and the percentage of urine flow that is retained.

It allows to evaluate the amount of flow that returns from the bladder to the kidneys and what pressure it happens at.

It allows to determine what type of incontinence is suffered.

It is very important when an artificial sphincter is to be placed.

It allows the study of other associated urinary diseases.
Most frequent indications of this test:
Do you have any of these diseases?
It may be necessary to perform a urodynamic study
How is the urodynamic study performed?
Filling phase: In this phase, the different pressures produced by introducing liquid into the bladder through a catheter are recorded. Another probe inserted into the rectum measures the intra-abdominal pressure. The graph obtained shows different colored lines that reflect the bladder, rectal and detrusor muscle pressures of the bladder, the amount infused and whether there are urine leaks during filling.
Emptying phase: In this phase, the patient empties the bladder. Data continues to be recorded (same pressures, and urine flow) which will then be analyzed by the physician.
Where do we do it?
IN NAVARRE AND MADRID
The Department of Urology
of the Clínica Universidad de Navarra
The Department of Urology of the University of Navarra Clinic offers the patient a medical team, composed of first-rate professionals, and state-of-the-art diagnostic and therapeutic means such as the Da Vinci® robotic surgery.
The Department of Urology possesses the certificate of accreditation of the European Board of Urology, a reinforcement of the excellence of the service at the level of care, teaching and research, which in Spain only three hospital centers possess.
Diseases we treat:
Genitourinary Prolapses

Pediatric Urology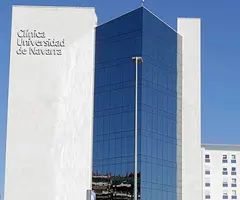 Why at the Clinica?
A team of top-level professionals trained in international centers.
State-of-the-art technology for diagnosis and treatment.
In 24-48 hours you can start the most appropriate treatment.
Our team of professionals