Home >
Sports Check Diagnosis
Sports
check-up
Sports check-up programme and stress test
The Sports Check-up Programme and stress tests at the Clinica Universidad de Navarra are led by fitness pathology specialists, who have the support of all departments and practitioners involved in fitness pathologies (e.g., cardiologists, pulmonologists, trauma surgeons, physiologists and physiotherapists) who have vast experience from their many years working with elite athletes.
The stress test helps study the body's reaction to controlled and increasingly intense physical stress, up to the point of maximum stress for each individual.
The Sports Assessment is an examination that seeks to offer athletes a more in-depth study than that offered by a stress test alone. In addition to the stress test, the assessment includes a series of tests, monitors and recommendations to improve the athletic performance and reduce its risks.
This assessment is aimed not only at individuals who regularly perform sports but also at individuals who want to begin practicing sports safely. Furthermore, it is appropriate for children and adolescents.
The Sports Medicine Evaluation is a personalised examination that allows doctors to identify any possible risk factors when doing sport, physical status of the sportsman or woman and the most appropriate training in order to achieve their suggested fitness goals.
This assessment offers a more complete service than the traditional stress test for athletes, given that it includes the following:
Consultation with a specialised sports medicine doctor
Consultation with a specialist in exercise physiology The physiologist will perform a muscle strength test, a muscle resistance test, a flexibility test and a bioimpedance test (body composition analysis to determine the percentage of body fat).
Cardiopulmonary stress test to analyse gases, determine fitness level and optimal range of heart rate for training. The exercise tests are carried out on a bicycle or treadmill, depending on the expected fitness level or preferences of the sportsman or woman.
Electrocardiogram to rule out arrhythmias and other cardiac issues. If any alterations are detected, a consultation with the Clínica cardiologist is included in the check-up
Recommendation for the type and level of aerobic workout, for the safe practice of sports, as well as for delaying the anaerobic threshold and thereby achieving better athletic performance.
Sudden death is a rare problem, but devastating when it does occur. It is caused by diseases like hypertrophic cardiomyopathy or arrhythmogenic right ventricular dysplasia, ischemic cardiopathology or a coronary anomaly.
In the Sport Medicine Area at the Clínica a programme has been designed to assess the risks using an exhaustive cardiological evaluation, with the possibility of doing some additional genetic testing. These evaluations are aimed at people who carry out sport at a high intensity, including elite professional sportsmen and women.
The Clínica offers a complementary Screening for sudden death in the Sports Medicine Evaluation, which includes:
Coronagraph using a CT scanner, to identify possible coronary heart diseases and origins of anomalous heart diseases.
Cardiac MRI scan, which enables doctors to diagnose hypertrophic cardiomyopathy, arrhythmogenic right ventricular dysplasia, myocarditis or any other type of cardiomyopathy.
In addition to this complementary service, for those who carry out sport at a high intensity, it is also possible to do genetic tests to prevent sudden death:
Sportsmen and women over 35 years old: the Clínica offers a special genetic test "Cardioincode". For this, a small saliva sample is taken in order to evaluate different genetic factors for coronary risk and their potential impact on the sportsman or woman.
Sportsmen and women under 35 years old: for elite sportsmen and women under 35 years old, the Clínica offers a genetic test to study the probability of sudden death.
This test is aimed at anyone who does physical exercise regularly who wishes to evaluate their health or improve their training.
Additionally, it is for those who have just started a new sport or activity and want to carry it out safely.
The Clínica's Sports Medicine Area also performs the physical fitness assessment for children and adolescents, adapting the protocols to paediatric and juvenile skills.
This is especially important for children and young adults with a passion for sports, who need to engage in intensive sports activities without compromising their development or safety.
With the Clínica's physical fitness assessment, a personalised plan is developed for the child or adolescent, which helps them develop their cardiopulmonary capacity, muscle strength and bone strength in a more appropriate manner.
Likewise, it is important for children with obesity and physical inactivity problems, for whom it is also especially important to have an appropriate activity plan.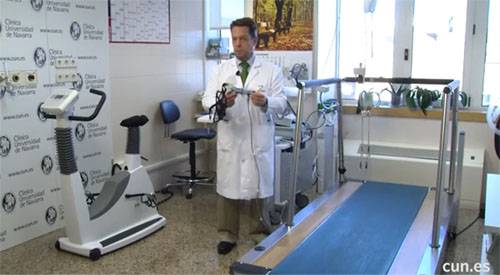 Stress test for athletes [Video only available in Spanish]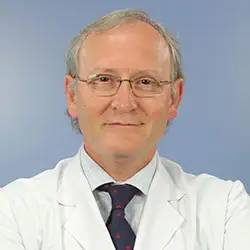 For people over 35 years old, we carry out a genetic test called "Cardioincode" to evaluate their risk of suffering from serious coronary problems".
you may

BE INTERESTED

Learn why the Clínica Universidad de Navarra is different from other hospitals.

Want to participate in our clinical trials? Learn which ones are active.

Know what we do for our international patients