Home >
ABOUT US >
Best reputation of a private hospital in Spain. MRS. Merco
RECONOCIMIENTOS
y premios
better reputation

PRIVATE HOSPITAL OF SPAIN 2017

Clínica Universidad de Navarra: Spanish private hospital with the best reputation, according to the Health Reputation Monitor of Spain.

For the fourth consecutive year, the Clínica Universidad de Navarra has been at the head of all Spanish private hospitals in health reputation, according to the ranking of the Health Reputation Monitor. The university hospital ranks among the top ten positions, both public and private, in a total of 12 medical specialties.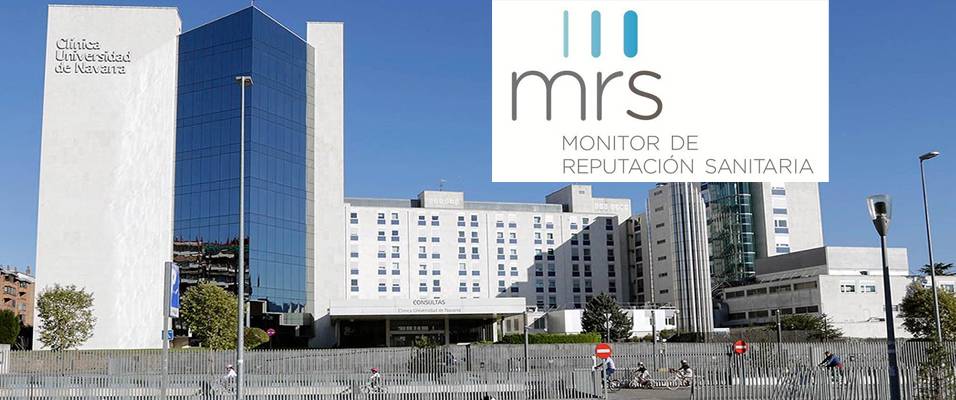 The Clinic is one of the ten best-placed centers for patient care in a total of 12 medical specialties. These are Medical Oncology, Hematology, Pediatrics, Otolaryngology, Obstetrics and Gynecology, Radiodiagnosis, Internal Medicine, Dermatology, Digestive Apparatus, Cardiology, Psychiatry, Orthopedic Surgery and Traumatology.
According to the indicators evaluated, the Clínica Universidad de Navarra also stands out as the second hospital with the best Communication Department in the country and as the third health center with the best management team.
Among the novelties of this 2017 edition, the MRS includes 4 new specialties: hematology, radiodiagnosis, oral and maxillofacial surgery and hospital pharmacy. In total, 75 different classifications have been developed.
The Health Reputation Monitor is the only independent study that analyzes the reputation of all Spanish healthcare. On this occasion, this study has evaluated the actors of the Spanish health system based on three valuations and quantitative assessments.
The first, the assessment made by 5,240 medical professionals, nurses, members of the public health administration at the provincial / regional level, responsible for hospital pharmacy, patient associations and journalists based on 13 reputation variables for hospital services, 14 variables for the pharmaceutical laboratories, 8 for the best drugs / drugs, and 11 for the health insurance companies.
The second, the analysis of about 1,000 indicators of quality and care performance for hospitals and clinical services. And the third, an evaluation of reputational merits carried out by the technicians of the Analysis and Research Institute, responsible for the fieldwork of MRS.
This health reputation index has the backing of Merco - the Corporate Reputation Business Monitor - reference in Spain and in ten other countries in Latin America. The study was prepared by Análisis e Investigación, the first Spanish market research institute, and the methodology and results have been independently reviewed by KMPG in accordance with the ISAE 3000 standard. In addition, the MRS evaluation criteria and Your weighting criteria will be public and will be published on www.merco.info.
tal vez

LE INTERESE

Why are we different from other healthcare facilities.
Quality, speed, comfort and results.

Clinical professionals perform a continuing research and training, always to the benefit of the patient.

Researched to offer new possibilities and the latest therapeutic advances
for our patients.