Get to know our clinical trials
Clinical trial of HLX04- O administered by intravitreal injection vs. Ranibizumab in subjects with wet age-related macular degeneration.
THE PURPOSE OF THIS STUDY IS TO DETERMINE WHETHER THE STUDY MEDICATION, HLX04-O, IS EFFECTIVE IN TREATING WAMD COMPARED TO THE COMPARATOR DRUG, LUCENTIS®. IN THIS STUDY, IF BOTH EYES ARE DIAGNOSED WITH WAMD OR OTHER OCULAR DISEASES AND THE OTHER (NON-STUDY) EYE REQUIRES TREATMENT WITH INTRAVITREAL ANTI-VEGF INJECTIONS WITHIN 3 MONTHS AS ASSESSED BY THE INVESTIGATORS, PATIENTS WILL BE EXCLUDED FROM THE STUDY. IF THE PATIENT'S OTHER (NON-STUDY) EYE REQUIRES TREATMENT FOR WAMD DURING THE STUDY, AT THE INVESTIGATOR'S DISCRETION AND IF APPLICABLE AND ALLOWED BY LOCAL PRACTICE, THE OTHER EYE MAY BE TREATED WITH STANDARD TREATMENT (RANIBIZUMAB / AFLIBERCEPT/ CONBERCEPT, ETC.) ALL EFFICACY AND SAFETY ASSESSMENTS RELATED TO THE EYE(S) WILL BE PERFORMED IN BOTH EYES AT ALL STUDY VISITS, REGARDLESS OF WHETHER OR NOT THE OTHER EYE IS TREATED (SECTION 6). THIS STUDY WILL ALSO ASSESS TOLERABILITY (HOW YOUR BODY REACTS TO THE DRUG), PHARMACOKINETIC (PK) PARAMETERS (HOW THE BODY ABSORBS, DISTRIBUTES AND ELIMINATES HLX04-O) AND IMMUNOGENICITY (WHETHER HLX04-O CAUSES YOUR BODY TO PRODUCE PROTEINS, ALSO KNOWN AS ANTIBODIES, CAPABLE OF REDUCING THE EFFECT OF THE DRUG).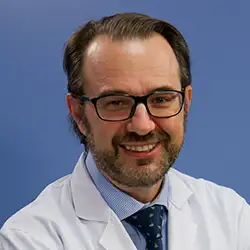 Navarre headquarters
Madrid headquarters
---
Technical Summary
TWO-PART PHASE 3 STUDY (OPEN-LABEL, FOLLOWED BY A RANDOMIZED, DOUBLE-BLIND, ACTIVE TREATMENT-CONTROLLED STUDY) TO COMPARE THE EFFICACY AND SAFETY OF HLX04-O ADMINISTERED BY INTRAVITREAL INJECTION VERSUS RANIBIZUMAB IN SUBJECTS WITH WET AGE-RELATED MACULAR DEGENERATION. IMMUNOTHERAPY
Code EudraCT: .
Protocol number: HLX04-O-wAMD
Promoter: Shangai Pharmaceuticals
* The trials only admit a limited number of patients and are subject to inclusion and exclusion criteria. The specialist who assesses your case will inform you of the conditions required to participate in the clinical trial.

Do you want to participate in this trial?
Request an appointment for our specialists to assess whether you qualify for this clinical trial
---

Do you prefer to send us your reports?
If you prefer, you can send us your medical information and our specialists will evaluate your case without the need to come to the Clinica.