Prognostic Factor Utility of BAP1 Immunohistochemistry in Uveal Melanoma: A Single Center Study in Spain
Oct 25, 2021
|
Magazine: Cancers
Laura Tabuenca Del Barrio 1 2 , Luiz Miguel Nova-Camacho 3 , Alicia Zubicoa Enériz 1 2 , Iñigo Martínez de Espronceda Ezquerro 2 4 , Alicia Córdoba Iturriagagoitia 3 , Enrique Borque Rodríguez-Maimón 1 , Alfredo García-Layana 2 5 6
---
Abstract
Even today, the mortality rate for uveal melanoma (UM) remains very high. In our research, we sought to determine which pathological and clinical features were correlated with the prognosis of UM. BAP1 (BRCA1-Associated Protein 1) gene mutation has been analyzed as one of the strongest predictors for metastasis in UM.
The BAP1 gene codifies the BAP1 protein which has a tumor suppressor function. The presence of this protein can be determined by BAP1 immunohistochemical staining. Eighty-four uveal melanoma patients and forty enucleated eyeballs were examined. Metastasis was present in 24 patients. Nuclear BAP1 staining was low in 23 patients.
The presence of a higher large basal diameter tumor (p < 0.001), tumor infiltrating lymphocytes (p = 0.020), and a lack of nuclear BAP1 immunostaining (p = 0.001) ocurred significantly more often in the metastatic group. Metastasis-free survival was lower in patients with low nuclear BAP1 staining (p = 0.003). In conclusion, to the best of our knowledge, this is the first time that BAP1 staining has been studied in uveal melanoma in a Spanish community.
We believe that this technique should become routine in the pathological examination of uveal melanoma in order to allow adequate classification of patients and to establish an individual follow-up plan.
CITATION Cancers (Basel). 2021 Oct 25;13(21):5347. doi: 10.3390/cancers13215347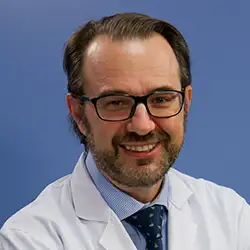 Navarre headquarters
Madrid headquarters