Plain language summary of the MonumenTAL-1 study of talquetamab in people with relapsed or refractory multiple myeloma
Jul 26, 2023
|
Magazine: Future Oncology
Ajai Chari 1 , Elham Askari 2 , Jo Caers 3 , Luciano J Costa 4 , Brandi W Hilder 5 , Amrita Krishnan 6 , María-Victoria Mateos 7 , Monique C Minnema 8 , Albert Oriol 9 , Kodandaram Pillarisetti 5 , Niels W C J van de Donk 10 , Paula Rodríguez-Otero 11
---
Abstract
What is this summary about?: This plain language summary describes the results of a phase 1 research study (or clinical trial) called MonumenTAL-1 published in the New England Journal of Medicine in December 2022. A phase 1 study is an early clinical trial where researchers evaluate how safe a medicine is at different doses in a small number of people. In the MonumenTAL-1 study, researchers looked at a new medicine under development called talquetamab, for people living with multiple myeloma (a type of blood cancer) who did not respond (refractory), stopped responding (relapsed), or who had difficulty dealing with their previous treatments.
How was the study conducted?: The phase 1 MonumenTAL-1 study was performed in 2 parts. Safety was the main focus of Part 1 in which side effects, and how serious they were, were assessed. The results of Part 1 were used to identify doses of talquetamab that were well tolerated, without a need to stop treatment or reduce the doses, for further study in Part 2. Part 2 of the study examined how well talquetamab worked to decrease signs of the cancer and what side effects, and their severity, people experienced at the doses identified in Part 1.
What were the results?: In Part 1 of the study, researchers identified 2 doses of talquetamab for further study: 405 micrograms for every kilogram of body weight (μg/kg) given weekly and 800 μg/kg every other week. All participants experienced at least one side effect of treatment at these 2 doses. Less than half of participants (43% at 405 μg/kg weekly dose and 34% at the 800 μg/kg every other week dose) experienced serious side effects which are those side effects that led to hospitalization, death, or permanent or life-threatening damage). The most common side effects at both doses were a condition known as cytokine release syndrome (CRS); changes in blood cell levels (where different types of cells in the blood were measured); changes in skin such as itching, dry skin, eczema, ulcers or shedding; changes in nails such as discoloration or ridging (lines or dents); and changes in sense of taste such as food tasting sour or metallic. CRS is caused by the overactivation of the immune system (the body's natural defense system) and can result in fever, feeling sick (nausea), being tired (fatigue), low blood pressure, low blood oxygen levels and body aches. Most cases of CRS, as well as most other side effects, were mild or moderate. Most common serious events were CRS, fever and bone pain. Most people had fewer signs of the cancer after taking talquetamab, and the response was similar between the 2 doses. The median duration of response at the 2 identified doses was 8-10 months.
What do the results mean?: Most of the side effects people experienced when taking talquetamab were mild or moderate. Most people who took talquetamab responded to the treatment even though they hadn't responded or stopped responding to previous multiple myeloma treatments or stopped taking those treatments because they were unable to tolerate them. These results demonstrate the potential of talquetamab as a treatment option in people who have used up other available therapy options. The 2 doses of talquetamab identified here are being examined in a larger group of participants to further test for safety and to test how well people respond.
CITATION Future Oncol. 2023 Jul 26. doi: 10.2217/fon-2023-0332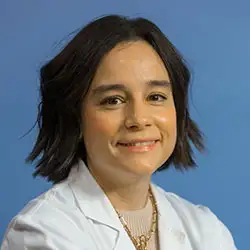 Navarre headquarters
Madrid headquarters