Elranatamab in relapsed or refractory multiple myeloma: phase 2 MagnetisMM-3 trial results
Aug 15, 2023
|
Magazine: Nature Medicine
Alexander M Lesokhin 1 , Michael H Tomasson 2 , Bertrand Arnulf 3 , Nizar J Bahlis 4 , H Miles Prince 5 , Ruben Niesvizky 6 , Paula Rodrίguez-Otero 7 , Joaquin Martinez-Lopez 8 , Guenther Koehne 9 , Cyrille Touzeau 10 , Yogesh Jethava 11 , Hang Quach 12 , Julien Depaus 13 , Hisayuki Yokoyama 14 , Afshin Eli Gabayan 15 , Don A Stevens 16 , Ajay K Nooka 17 , Salomon Manier 18 , Noopur Raje 19 , Shinsuke Iida 20 , Marc-Steffen Raab 21 , Emma Searle 22 , Eric Leip 23 , Sharon T Sullivan 23 , Umberto Conte 24 , Mohamed Elmeliegy 25 , Akos Czibere 24 , Andrea Viqueira 26 , Mohamad Mohty 27
---
Abstract
Elranatamab is a humanized B-cell maturation antigen (BCMA)-CD3 bispecific antibody. In the ongoing phase 2 MagnetisMM-3 trial, patients with relapsed or refractory multiple myeloma received subcutaneous elranatamab once weekly after two step-up priming doses.
After six cycles, persistent responders switched to biweekly dosing. Results from cohort A, which enrolled patients without prior BCMA-directed therapy (n = 123) are reported. The primary endpoint of confirmed objective response rate (ORR) by blinded independent central review was met with an ORR of 61.0% (75/123); 35.0% ≥complete response.
Fifty responders switched to biweekly dosing, and 40 (80.0%) improved or maintained their response for ≥6 months. With a median follow-up of 14.7 months, median duration of response, progression-free survival and overall survival (secondary endpoints) have not been reached. Fifteen-month rates were 71.5%, 50.9% and 56.7%, respectively. Common adverse events (any grade; grade 3-4) included infections (69.9%, 39.8%), cytokine release syndrome (57.7%, 0%), anemia (48.8%, 37.4%), and neutropenia (48.8%, 48.8%). With biweekly dosing, grade 3-4 adverse events decreased from 58.6% to 46.6%
Elranatamab induced deep and durable responses with a manageable safety profile. Switching to biweekly dosing may improve long-term safety without compromising efficacy.
CITATION Nat Med. 2023 Aug 15. doi: 10.1038/s41591-023-02528-9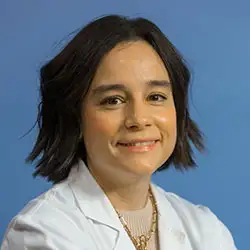 Navarre headquarters
Madrid headquarters