Central nervous system prophylaxis with intrathecal liposomal cytarabine in a subset of high-risk patients with diffuse large B-cell lymphoma receiving first line systemic therapy in a prospective trial
May 2, 2016
|
Magazine: Annals of Hematology
E González-Barca 1 , M Canales 2 , A Salar 3 , J J Ferreiro-Martínez 4 , S Ferrer-Bordes 5 , J A García-Marco 6 , J J Sánchez-Blanco 7 , J García-Frade 8 , J Peñalver 9 , J L Bello-López 10 , J M Sancho 11 , D Caballero 12 , GELTAMO group
---
Abstract
The dissemination in the central nervous system (CNS) is an uncommon but fatal complication occurring in patients with diffuse large B-cell lymphoma (DLBCL).
Standard prophylaxis has been demonstrated to reduce CNS relapse and improve survival rates. Intrathecal (IT) liposomal cytarabine allows maintaining elevated drug levels in the cerebrospinal fluid for an extended period of time. Data on the efficacy and safety of liposomal cytarabine as CNS prophylaxis in patients with DLBCL are still insufficient.
The objective of the present study was to evaluate the effectiveness and safety of the prophylaxis with IT liposomal cytarabine in prevention of CNS relapse in high-risk patients with DLBCL who were included in a trial of first line systemic therapy with 6 cycles of dose-dense R-CHOP every 14 days.
Twenty-four (18.6 %) out of 129 patients were identified to have risk factors for CNS involvement, defined as follows: >30 % bone marrow infiltration, testes infiltration, retroperitoneal mass ≥10 cm, Waldeyer ring, or bulky cervical nodes involvement. Liposomal cytarabine (50 mg) was administered by lumbar puncture the first day of the 1st, 2nd, and 6th cycle of R-CHOP14 scheme. Among 70 IT infusions, grade 3-4 adverse events reported were headache (one patient) and nausea/vomiting (one patient).
With a median follow-up of 40.1 months, no CNS involvement by DLBCL was observed in any patient. In conclusion, IT liposomal cytarabine is safe, feasible, and effective for CNS prophylaxis, causing few associated risks and little discomfort to patients with DLBCL.
CITATION Ann Hematol. 2016 May;95(6):893-9. doi: 10.1007/s00277-016-2648-4. Epub 2016 Mar 30.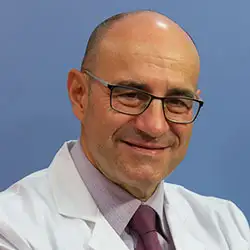 Navarre headquarters
Madrid headquarters