Belantamab mafodotin in combination with novel agents in relapsed/refractory multiple myeloma: DREAMM-5 study design
Jun 1, 2021
|
Magazine: Future Oncology
Ajay K Nooka 1 , Katja Weisel 2 , Niels Wcj van de Donk 3 , David Routledge 4 , Paula Rodriguez Otero 5 , Kevin Song 6 , Hang Quach 7 , Natalie Callander 8 , Monique C Minnema 9 , Suzanne Trudel 10 , Nicola A Jackson 11 , Christoph M Ahlers 12 , Ellie Im 13 , Shinta Cheng 14 , L Smith 14 , Nahi Hareth 15 , Geraldine Ferron-Brady 12 , Maria Brouch 12 , Rocio Montes de Oca 12 , Sofia Paul 12 , Beata Holkova 12 , Ira Gupta 12 , Brandon E Kremer 13 , Paul Richardson 16
---
Abstract
Belantamab mafodotin (belamaf) is a BCMA-targeted antibody-drug conjugate recently approved as monotherapy for adults with relapsed/refractory multiple myeloma who have received ≥4 prior therapies.
Belamaf binds to BCMA and eliminates myeloma cells by multimodal mechanisms of action. The cytotoxic and potential immunomodulatory properties of belamaf have led to novel combination studies with other anticancer therapies.
Here, we describe the rationale and design of DREAMM-5, an ongoing Phase I/II platform study evaluating the safety and efficacy of belamaf combined with novel agents, including GSK3174998 (OX40 agonist), feladilimab (an ICOS; GSK3359609), nirogacestat (a gamma-secretase inhibitor; PF-03084014) and dostarlimab (a PD-1 blocker) versus belamaf monotherapy for patients with relapsed/refractory multiple myeloma. Clinical trial registration: NCT04126200 (ClinicalTrials.gov).
CITATION Future Oncol. 2021 Jun;17(16):1987-2003. doi: 10.2217/fon-2020-1269. Epub 2021 Mar 8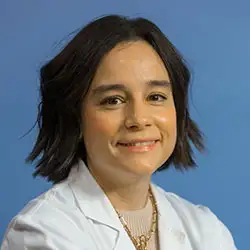 Navarre headquarters
Madrid headquarters