Get to know our clinical trials
Clinical trial to evaluate the efficacy of pyrepemat on the frequency of falls in patients with Parkinson's disease
THE STUDY IS BEING CONDUCTED FOR RESEARCH PURPOSES TO TEST THE STUDY DRUG, PIREPEMAT, FOR THE TREATMENT OF PARKINSON'S DISEASE (PD). THE OBJECTIVE OF THE STUDY IS TO LEARN MORE ABOUT THE EFFICACY AND SAFETY OF PIREPEMAT FOR THE TREATMENT OF PARKINSON'S DISEASE. IN THIS STUDY, PIREPEMAT WILL BE ADMINISTERED IN ADDITION TO THE PATIENT'S USUAL PD MEDICATION. TWO DIFFERENT DAILY DOSES OF THE STUDY DRUG, PIREPEMAT, WILL BE COMPARED TO A PLACEBO. A PLACEBO IS A TREATMENT/TABLET THAT LOOKS/TASTS EXACTLY THE SAME AS THE STUDY DRUG, BUT CONTAINS NO ACTIVE INGREDIENTS. YOU WILL RANDOMLY (RANDOMLY, LIKE SPINNING A ROULETTE WHEEL WITH 3 SEGMENTS) DECIDE WHETHER YOU RECEIVE THE STUDY DRUG OR THE PLACEBO. IN THIS STUDY, 1 OUT OF 3 PATIENTS (33%) WILL RECEIVE THE LOW DOSE OF PYREPEMAT (100 MG, 3 TIMES DAILY); 1 OUT OF 3 PATIENTS (33%) WILL RECEIVE THE HIGH DOSE OF PYREPEMAT (200 MG, 3 TIMES DAILY); AND 1 OUT OF 3 PATIENTS (33%) WILL RECEIVE THE PLACEBO. ALL PATIENTS WILL RECEIVE HALF OF THE ASSIGNED STUDY DOSE DURING THE FIRST WEEK OF TREATMENT, BEFORE INCREASING THE DOSE TO THE FULL DOSE STARTING IN THE SECOND WEEK. TO KEEP THE STUDY FAIR, THE STUDY CAREGIVER AND STUDY DOCTOR WILL NOT BE TOLD WHICH STUDY DRUG AND DOSE EACH PATIENT WILL RECEIVE. THIS IS CALLED "BLINDING". IN CASE OF AN EMERGENCY, THE STUDY DOCTOR WILL BE ABLE TO CONSULT THE ASSIGNED TREATMENT AT ANY TIME.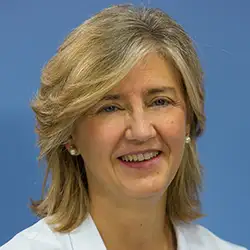 Navarre headquarters
Madrid headquarters
---
Technical Summary
PHASE IIB, RANDOMIZED, PLACEBO-CONTROLLED, MULTICENTER STUDY TO EVALUATE THE EFFICACY OF PYREPEMAT ON THE FREQUENCY OF FALLS IN PATIENTS WITH PARKINSON'S DISEASE
Code EudraCT: 2019-002627-16
Protocol number: IRL752C003
Promoter: Irlab
* The trials only admit a limited number of patients and are subject to inclusion and exclusion criteria. The specialist who assesses your case will inform you of the conditions required to participate in the clinical trial.
More information about this clinical trial
Information offered by the Spanish Registry of Clinical Studies


Do you want to participate in this trial?
Request an appointment for our specialists to assess whether you qualify for this clinical trial
---

Do you prefer to send us your reports?
If you prefer, you can send us your medical information and our specialists will evaluate your case without the need to come to the Clinica.