Get to know our clinical trials
Phase I/IIa clinical trial to evaluate the feasibility, safety and antitumor activity of autologous car-t slamf7 lymphocytes in multiple myeloma.
THE OBJECTIVE OF THIS TRIAL IS TO EVALUATE THE SAFETY, TOLERABILITY AND EFFECTIVE DOSE OF ITS NEWLY DEVELOPED INVESTIGATIONAL DRUG, THE CHIMERIC T-LYMPHOCYTE RECEPTOR CHIMERIC ANTIGEN RECEPTOR (CAR) DRUG PRODUCT FOR LYMPHOCYTE SIGNALING ACTIVATION MOLECULE F7 (SLAMF7) (HEREAFTER REFERRED TO AS T-CAR SLAMF7). T-CAR SLAMF7 IS IN THE CLINICAL RESEARCH PHASE, WHICH MEANS THAT IT HAS NOT YET RECEIVED APPROVAL FROM THE HEALTH AUTHORITIES AS A DRUG TO TREAT YOUR DISEASE. TO DATE, T-CAR SLAMF7 HAS ONLY BEEN USED IN ANIMAL RESEARCH. THIS CLINICAL TRIAL WILL BE THE FIRST TIME IT WILL BE TESTED IN HUMANS AS AN INVESTIGATIONAL DRUG.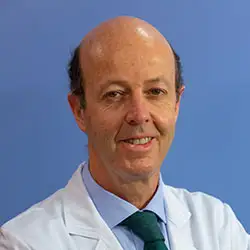 Navarre headquarters
Madrid headquarters
---
Technical Summary
PHASE I/IIA CLINICAL TRIAL TO EVALUATE THE FEASIBILITY, SAFETY AND ANTITUMOR ACTIVITY OF AUTOLOGOUS CAR-T SLAMF7 LYMPHOCYTES IN MULTIPLE MYELOMA.
Code EudraCT: 2019-001264-30
Protocol number: CARAMBA-1
Promoter: UNIVERSITAETSKLINIKUM WUERZBURG
* The trials only admit a limited number of patients and are subject to inclusion and exclusion criteria. The specialist who assesses your case will inform you of the conditions required to participate in the clinical trial.
More information about this clinical trial
Information offered by the Spanish Registry of Clinical Studies


Do you want to participate in this trial?
Request an appointment for our specialists to assess whether you qualify for this clinical trial
---

Do you prefer to send us your reports?
If you prefer, you can send us your medical information and our specialists will evaluate your case without the need to come to the Clinica.