Get to know our clinical trials
Clinical trial of RO7198457 in patients with resected stage II and stage III colorectal cancer with circulating tumor DNA positivity after tumor resection.
THE OBJECTIVE OF THIS STUDY IS TO LEARN ABOUT THE EFFECTS OF AN EXPERIMENTAL TREATMENT CALLED RO7198457. RO7198457 IS CONSIDERED "EXPERIMENTAL" BECAUSE IT HAS NOT YET RECEIVED APPROVAL FROM THE SPANISH AGENCY OF MEDICINES AND HEALTH PRODUCTS FOR THE TREATMENT OF ANY DISEASE.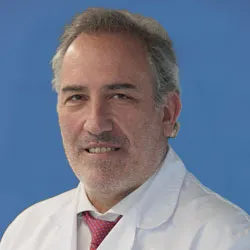 Navarre headquarters
Madrid headquarters
---
Technical Summary
PHASE II, MULTICENTER, UNBLINDED, RANDOMIZED, CONTROLLED, MULTICENTER STUDY TO COMPARE THE EFFICACY OF RO7198457 WITH A WAIT-AND-SEE STRATEGY IN PATIENTS WITH RESECTED STAGE II (HIGH RISK) AND STAGE III COLORECTAL CANCER WITH CIRCULATING TUMOR DNA (CTDNA) POSITIVITY AFTER TUMOR RESECTION.
Code EudraCT: 2020-000451-12
Protocol number: BNT122-01
Promoter: BioNTech RNA Pharmaceuticals GmbH
* The trials only admit a limited number of patients and are subject to inclusion and exclusion criteria. The specialist who assesses your case will inform you of the conditions required to participate in the clinical trial.
More information about this clinical trial
Information offered by the Spanish Registry of Clinical Studies


Do you want to participate in this trial?
Request an appointment for our specialists to assess whether you qualify for this clinical trial
---

Do you prefer to send us your reports?
If you prefer, you can send us your medical information and our specialists will evaluate your case without the need to come to the Clinica.