Get to know our clinical trials
Clinical trial of MRTX849 with Cetuximab versus chemotherapy in patients with advanced colorectal cancer
CETUXIMAB (ALSO KNOWN AS ERBITUX®) IS A CANCER TREATMENT THAT HAS BEEN APPROVED BY THE EMA (EUROPEAN MEDICINES AGENCY) FOR THE TREATMENT OF PATIENTS WITH COLORECTAL CANCER WHO DO NOT HAVE A KRAS MUTATION IN THEIR TUMOR. CETUXIMAB ALONE IS NOT EFFECTIVE IN PATIENTS WITH COLORECTAL CANCER WHO HAVE A KRAS MUTATION IN THEIR TUMOR. CETUXIMAB HAS SEVERAL MANUFACTURERS, INCLUDING ELI LILLY. THIS STUDY WILL COMPARE THE EFFICACY OF MRTX849 IN COMBINATION WITH CETUXIMAB (INVESTIGATIONAL GROUP) VERSUS STANDARD SECOND-LINE TREATMENT CONSISTING OF CHEMOTHERAPY WITH FOLFIRI OR WITH MFOLFOX6 (COMPARATIVE GROUP) IN PATIENTS WITH ADVANCED COLORECTAL CANCER WHO HAVE A TUMOR-SPECIFIC GENE CHANGE (KRAS G12C) AND WHO EXPERIENCE PROGRESSION DURING OR AFTER FIRST-LINE CHEMOTHERAPY. CHEMOTHERAPY IS A TREATMENT THAT INVOLVES A DRUG OR COMBINATION OF DRUGS THAT ACT THROUGHOUT THE BODY TO HELP FIGHT THE CANCER. OTHER STUDY OBJECTIVES INCLUDE EVALUATING THE SAFETY OF MRTX849 IN COMBINATION WITH CETUXIMAB, EVALUATING HOW QUICKLY MRTX849 IS ABSORBED INTO THE BLOODSTREAM AND HOW QUICKLY IT IS ELIMINATED, AND EVALUATING ITS HEALTH-RELATED QUALITY OF LIFE. VARIOUS ANALYTICAL TESTS WILL BE PERFORMED ON TUMOR TISSUE OR BLOOD SAMPLES TO UNDERSTAND HOW AND WHY MRTX849 WITH CETUXIMAB MAY WORK FOR THE TREATMENT OF COLORECTAL CANCER.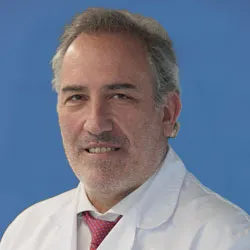 Navarre headquarters
Madrid headquarters
---
Technical Summary
RANDOMIZED PHASE 3 STUDY OF MRTX849 IN COMBINATION WITH CETUXIMAB VERSUS CHEMOTHERAPY IN PATIENTS WITH ADVANCED KRAS G12C-MUTATED COLORECTAL CANCER WITH DISEASE PROGRESSION DURING OR AFTER STANDARD FIRST-LINE TREATMENT. IMMUNOTHERAPY
Code EudraCT: 2020-004048-27
Protocol number: 849-010
Promoter: Mirati
* The trials only admit a limited number of patients and are subject to inclusion and exclusion criteria. The specialist who assesses your case will inform you of the conditions required to participate in the clinical trial.
More information about this clinical trial
Information offered by the Spanish Registry of Clinical Studies


Do you want to participate in this trial?
Request an appointment for our specialists to assess whether you qualify for this clinical trial
---

Do you prefer to send us your reports?
If you prefer, you can send us your medical information and our specialists will evaluate your case without the need to come to the Clinica.