Get to know our clinical trials
Ensayo clínico con Lurbinectedina como agente único o Lurbinectedina en combinación con Irinotecán frente a la elección del investigador (Topotecán o Irinotecán) en Pacientes con cáncer de pulmón de células pequeñas en recaída (CPCP)
THE MAIN OBJECTIVE OF THIS CLINICAL TRIAL IS TO FIND OUT WHETHER LURBINECTEDIN ADMINISTERED IN MONOTHERAPY OR IN COMBINATION WITH IRINOTECAN (TWO DIFFERENT EXPERIMENTAL GROUPS, GROUPS A AND B) IS SUPERIOR TO A CONTROL GROUP (GROUP C) CONSISTING OF TOPOTECAN OR IRINOTECAN IN CONTROLLING THE PROGRESSION OF SMALL CELL LUNG CANCER (SCLC) IN PATIENTS WITH PROGRESSION AFTER RECEIVING A LINE OF TREATMENT WITH CHEMOTHERAPEUTICS THAT INCLUDED PLATINUM SALTS. THE KNOWLEDGE GAINED FROM THIS TREATMENT WILL MAKE IT POSSIBLE TO COMBAT THIS TYPE OF CANCER IN A MORE TARGETED MANNER.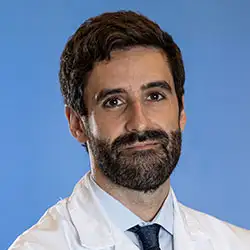 ---
Technical Summary
RANDOMIZED, MULTICENTER, OPEN-LABEL, PHASE III STUDY OF SINGLE-AGENT LURBINECTEDIN OR LURBINECTEDIN IN COMBINATION WITH IRINOTECAN VERSUS INVESTIGATOR'S CHOICE (TOPOTECAN OR IRINOTECAN) IN PATIENTS WITH RELAPSED SMALL CELL LUNG CANCER (SCLC) (LAGOON TRIAL).
Code EudraCT: 2021-004471-13
Protocol number: PM1183-C-008-21
Promoter: Pharma Mar, S.A.
* The trials only admit a limited number of patients and are subject to inclusion and exclusion criteria. The specialist who assesses your case will inform you of the conditions required to participate in the clinical trial.
More information about this clinical trial
Information offered by the Spanish Registry of Clinical Studies


Do you want to participate in this trial?
Request an appointment for our specialists to assess whether you qualify for this clinical trial
---

Do you prefer to send us your reports?
If you prefer, you can send us your medical information and our specialists will evaluate your case without the need to come to the Clinica.