Get to know our clinical trials
Clinical trial of elranatamab (PF-06863135) versus lenalidomide in patients with newly diagnosed multiple myeloma.
THE MAIN OBJECTIVE OF THIS STUDY IS TO COMPARE THE EFFICACY OF ELRANATAMAB (GROUP A) VERSUS LENALIDOMIDE (GROUP B) IN PATIENTS NEWLY DIAGNOSED WITH MULTIPLE MYELOMA (MM) AND WHO HAVE POSITIVE MINIMAL RESIDUAL DISEASE (MRD) (STILL HAVE MYELOMA CELLS PRESENT IN THEIR BONE MARROW) AFTER UNDERGOING AUTOLOGOUS (CELLS/TISSUE THAT HAVE BEEN OBTAINED FROM THEIR BODY) STEM CELL TRANSPLANTATION (ASCT). THE AIM IS TO ASSESS WHETHER THE STUDY DRUG, ELRANATAMAB, CAN PROVIDE BETTER CLINICAL BENEFIT AS A MAINTENANCE TREATMENT COMPARED TO LENALIDOMIDE.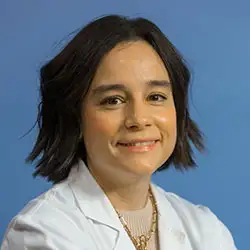 Navarre headquarters
Madrid headquarters
---
Technical Summary
RANDOMIZED, TWO-ARM, PHASE III STUDY OF ELRANATAMAB (PF-06863135) VERSUS LENALIDOMIDE IN PATIENTS WITH NEWLY DIAGNOSED MULTIPLE MYELOMA WHO HAVE MINIMAL RESIDUAL DISEASE AFTER UNDERGOING AUTOLOGOUS STEM CELL TRANSPLANTATION. IMMUNOTHERAPY
Code EudraCT: 2021-006052-14
Protocol number: C1071007
Promoter: Pfizer
* The trials only admit a limited number of patients and are subject to inclusion and exclusion criteria. The specialist who assesses your case will inform you of the conditions required to participate in the clinical trial.