Get to know our clinical trials
Clinical trial of Elranatamab (PF-06863135) and Daratumumab in participants with relapsed/refractory multiple myeloma.
THE OBJECTIVE OF PART 1 OF THIS CLINICAL TRIAL IS TO FIND THE BEST DOSE OF ELRANATAMAB WHEN GIVEN IN COMBINATION WITH A SECOND DRUG, DARATUMUMAB. IN PART 2 OF THIS STUDY, THE SAFETY AND EFFICACY OF THE STUDY DRUG, ELRANATAMAB, WILL BE STUDIED IN PATIENTS WITH RELAPSED OR UNRESPONSIVE MULTIPLE MYELOMA AFTER PREVIOUS TREATMENT. IN THIS PART 2 OF THE STUDY, IN ORDER TO EVALUATE DIFFERENT ADMINISTRATION PATTERNS, PARTICIPANTS WILL BE DIVIDED INTO 3 GROUPS: GROUP A, WHICH WILL RECEIVE INCREASING DOSES OF ELRANATAMAB; GROUP B, WHICH WILL RECEIVE ELRANATAMAB IN COMBINATION WITH DARATUMUMAB; AND GROUP C (CONTROL GROUP), WHICH WILL RECEIVE DARATUMUMAB WITH POMALIDOMIDE AND DEXAMETHASONE. DARATUMUMAB AND ELRANATAMAB ARE INVESTIGATIONAL DRUGS IN THIS STUDY BECAUSE THEY ARE NOT APPROVED FOR COMBINED USE. BOTH ARE ADMINISTERED BY INJECTION UNDER THE SKIN. ULTIMATELY, THE MAIN OBJECTIVE OF THIS STUDY IS: PART 1: TO EVALUATE THE DOSE-LIMITING TOXICITIES (DLTS), SAFETY AND TOLERABILITY OF ELRANATAMAB DARATUMUMAB TO SELECT A DRF3 FOR THE COMBINATION TO BE USED IN PART 2 OF THIS STUDY. PART 2: -TO COMPARE THE EFFICACY OF ELRANATAMAB (GROUP A) VERSUS DARATUMUMAB POMALIDOMIDE DEXAMETHASONE (GROUP C) AS MEASURED BY SSP. -TO COMPARE THE EFFICACY OF ELRANATAMAB DARATUMUMAB (GROUP B) VS. GROUP C AS MEASURED BY SSP.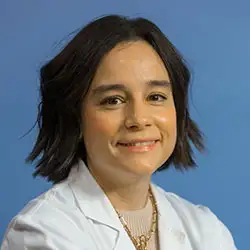 Navarre headquarters
Madrid headquarters
---
Technical Summary
PHASE III, OPEN-LABEL, MULTICENTER, MULTICENTER, RANDOMIZED, 3-GROUP STUDY TO EVALUATE THE EFFICACY AND SAFETY OF ELRANATAMAB (PF-06863135) IN MONOTHERAPY AND ELRANATAMAB DARATUMUMAB COMPARED TO DARATUMUMUMAB POMALIDOMIDE DEXAMETHASONE IN PARTICIPANTS WITH RELAPSED/REFRACTORY MULTIPLE MYELOMA WHO HAVE RECEIVED AT LEAST 2 PRIOR LINES OF THERAPY INCLUDING LENALIDOMIDE AND A PROTEASOME INHIBITOR. IMMUNOTHERAPY
Code EudraCT: 2021-000044-22
Protocol number: C1071005
Promoter: Pfizer
* The trials only admit a limited number of patients and are subject to inclusion and exclusion criteria. The specialist who assesses your case will inform you of the conditions required to participate in the clinical trial.
More information about this clinical trial
Information offered by the Spanish Registry of Clinical Studies


Do you want to participate in this trial?
Request an appointment for our specialists to assess whether you qualify for this clinical trial
---

Do you prefer to send us your reports?
If you prefer, you can send us your medical information and our specialists will evaluate your case without the need to come to the Clinica.