Get to know our clinical trials
Trial to evaluate the long-term safety and tolerability of the port delivery system device with ranibizumab in patients with neovascular age-related macular degeneration.
THE PURPOSE OF THIS STUDY IS TO EVALUATE THE LONG-TERM EFFECTS, GOOD OR BAD, OF THE OCULAR IMPLANT (IN THE EYE) IN YOU AND YOUR WET AMD, WHEREBY A DOSE OF RANIBIZUMAB IS ADMINISTERED. THE OCULAR IMPLANT DELIVERS RANIBIZUMAB CONTINUOUSLY (WITHOUT INTERRUPTIONS) OVER AN EXTENDED PERIOD OF TIME INTO THE BACK OF THE EYE AND CAN BE RECHARGED BY THE STUDY DOCTOR. SINCE THE IMPLANT RELEASES RANIBIZUMAB OVER TIME, IT MAY NOT NEED TO BE TREATED AS FREQUENTLY. THE INTENTION IS TO KEEP THE IMPLANT IN THE EYE PERMANENTLY, UNLESS IT NEEDS TO BE REMOVED FOR MEDICAL REASONS.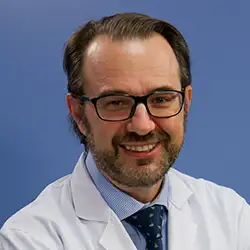 Navarre headquarters
Madrid headquarters
---
Technical Summary
OPEN-LABEL, MULTICENTER EXTENSION STUDY TO EVALUATE THE LONG-TERM SAFETY AND TOLERABILITY OF THE RANIBIZUMAB-CONTAINING PORT DELIVERY SYSTEM DEVICE IN PATIENTS WITH NEOVASCULAR (PORTAL) AGE-RELATED MACULAR DEGENERATION. IMMUNOTHERAPY
Code EudraCT: 2020-004427-16
Protocol number: GR40549
Promoter: Roche Farma, S.A.
* The trials only admit a limited number of patients and are subject to inclusion and exclusion criteria. The specialist who assesses your case will inform you of the conditions required to participate in the clinical trial.
More information about this clinical trial
Information offered by the Spanish Registry of Clinical Studies


Do you want to participate in this trial?
Request an appointment for our specialists to assess whether you qualify for this clinical trial
---

Do you prefer to send us your reports?
If you prefer, you can send us your medical information and our specialists will evaluate your case without the need to come to the Clinica.