Get to know our clinical trials
Ensayo clínico para investigar la seguridad, eficacia, farmacocinética y actividad farmacodinámica de CLN-619 (anticuerpo anti MICA/MICB), solo y en combinación con Pembrolizumab en pacientes con tumores sólidos avanzados
THE OBJECTIVE OF THIS STUDY IS TO EVALUATE THE SAFETY OF CLN-619 ADMINISTRATION ALONE OR IN COMBINATION WITH PEMBROLIZUMAB IN CANCER PATIENTS AND TO DETERMINE THE MAXIMUM DOSES THAT CAN BE SAFELY ADMINISTERED. SIDE EFFECTS, THEIR TIME TO ONSET AND RESOLUTION WILL BE EVALUATED. ONCE THE MAXIMUM OR BEST DOSE OF CLN-619 ALONE OR IN COMBINATION WITH PEMBROLIZUMAB IS DETERMINED, THE MAIN OBJECTIVE OF THE TRIAL IS TO EVALUATE THE EFFICACY OF THE TREATMENT IN CONTROLLING THE TUMOR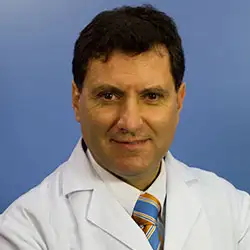 ---
Technical Summary
PHASE 1 DOSE-ESCALATION STUDY TO INVESTIGATE THE SAFETY, EFFICACY, PHARMACOKINETICS AND PHARMACODYNAMIC ACTIVITY OF CLN-619 (ANTI-MICA/MICB ANTIBODY), ALONE AND IN COMBINATION WITH PEMBROLIZUMAB IN PATIENTS WITH ADVANCED SOLID TUMORS. IMMUNOTHERAPY
Code EudraCT: 2021-002473-26
Protocol number: CLN-619-001
Promoter: Cullinan MICA Corp.
* The trials only admit a limited number of patients and are subject to inclusion and exclusion criteria. The specialist who assesses your case will inform you of the conditions required to participate in the clinical trial.
More information about this clinical trial
Information offered by the Spanish Registry of Clinical Studies


Do you want to participate in this trial?
Request an appointment for our specialists to assess whether you qualify for this clinical trial
---

Do you prefer to send us your reports?
If you prefer, you can send us your medical information and our specialists will evaluate your case without the need to come to the Clinica.