Get to know our clinical trials
Ensayo clínico de brentuximab vedotina o placebo en combinación con lenalidomida y rituximab en pacientes con linfoma difuso de células B grandes
THIS CLINICAL TRIAL USES A DRUG CALLED BRENTUXIMAB VEDOTIN. IT IS USED IN THIS STUDY BECAUSE THERE IS DIFFUSE LARGE B-CELL LYMPHOMA (DLBCL) THAT HAS COME BACK OR HAS NOT IMPROVED WITH THE LAST TREATMENT. THIS CLINICAL TRIAL ALSO USES DRUGS CALLED LENALIDOMIDE AND RITUXIMAB. THESE DRUGS HAVE BEEN APPROVED FOR CERTAIN BLOOD CANCERS AND OTHER DISEASES. BRENTUXIMAB VEDOTIN IS A TYPE OF DRUG CALLED AN ANTIBODY-DRUG CONJUGATE OR ADC. ADCS USUALLY HAVE 2 PARTS. -ANTIBODY: ANTIBODIES ARE PART OF THE IMMUNE SYSTEM. THEY USUALLY HELP PROTECT AGAINST DISEASE. IN BRENTUXIMAB VEDOTIN, AN ANTIBODY DESIGNED TO FIND AND ATTACH TO CANCER CELLS IN THE BODY IS USED. -DRUG: THE DRUG IS THE PART OF THE ADC THAT KILLS THE CELLS. THE PART OF BRENTUXIMAB VEDOTIN THAT KILLS CELLS IS A CHEMOTHERAPY DRUG CALLED MONOMETHYL AURISTATIN E (MMAE). IN BRENTUXIMAB VEDOTIN, THE ANTIBODY PART IS DESIGNED TO ATTACH TO CANCER CELLS SO THAT THE DRUG PART CAN KILL THEM. IT CAN ALSO ATTACH TO SOME NON-CANCEROUS CELLS IN YOUR BODY. BRENTUXIMAB VEDOTIN PLUS LENALIDOMIDE AND RITUXIMAB IS BEING USED TO FIND OUT IF THIS COMBINATION WORKS IN CASES OF DLBCL THAT HAVE COME BACK OR DO NOT GET BETTER WITH PREVIOUS TREATMENTS. THEY ALSO WANT TO STUDY SIDE EFFECTS. IN THIS STUDY THERE ARE 2 GROUPS. ONE GROUP WILL RECEIVE LENALIDOMIDE AND RITUXIMAB WITH BRENTUXIMAB VEDOTIN. THE OTHER GROUP WILL RECEIVE LENALIDOMIDE AND RITUXIMAB WITH A PLACEBO. A PLACEBO CONTAINS NO ACTUAL DRUG. THE MAIN OBJECTIVE OF THIS STUDY IS TO EVALUATE AND COMPARE PROGRESSION-FREE SURVIVAL (PFS) BETWEEN THE 2 TREATMENT GROUPS IN THE INTENTION-TO-TREAT (ITT) POPULATION, AS WELL AS TO EVALUATE AND COMPARE PFS BETWEEN THE 2 TREATMENT GROUPS IN THE CD30-POSITIVE POPULATION.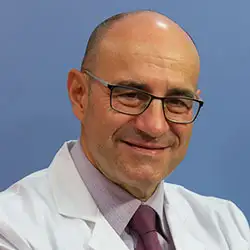 Navarre headquarters
Madrid headquarters
---
Technical Summary
PHASE III MULTICENTER, RANDOMIZED, DOUBLE-BLIND, PLACEBO-CONTROLLED, ACTIVE COMPARATOR, MULTICENTER STUDY OF BRENTUXIMAB VEDOTIN OR PLACEBO IN COMBINATION WITH LENALIDOMIDE AND RITUXIMAB IN PATIENTS WITH RELAPSED OR REFRACTORY DIFFUSE DIFFUSE LARGE B-CELL LYMPHOMA (DLBCL). IMMUNOTHERAPY
Code EudraCT: 2020-002686-33
Protocol number: SGN35-031
Promoter: Seagen Inc.
* The trials only admit a limited number of patients and are subject to inclusion and exclusion criteria. The specialist who assesses your case will inform you of the conditions required to participate in the clinical trial.
More information about this clinical trial
Information offered by the Spanish Registry of Clinical Studies


Do you want to participate in this trial?
Request an appointment for our specialists to assess whether you qualify for this clinical trial
---

Do you prefer to send us your reports?
If you prefer, you can send us your medical information and our specialists will evaluate your case without the need to come to the Clinica.