Home >
Restorative and Plastic Surgery
Restorative and Plastic Surgery
department
The Restorative and Plastic Surgery Department carries out surgical correction for all congenital, acquired, tumorous o, simply, reactionary processes, which require restoration or replacement of structures which affect bodily form and function, following aesthetic proportionality and aesthetic parameters.
We have vast experience in plastic surgery, in both restorative and aesthetic procedures. Our specialists have completed training in international reference centres.
We are experts in blood vessel and nerve restorative microsurgery.
We have the latest technology and powerful microscopes. This means that it is possible to complete restorative surgery treatments for facial paralysis, mammary reconstruction, ears and burns, as well as other head, neck, vascular and craniofacial anomalies.
The Clínica Universidad de Navarra is a guarantee of quality in both bodily and facial aesthetic surgical treatments, with the latest technology and the most advanced procedures.
We offer patient care both in our Pamplona headquarters and our Madrid branch.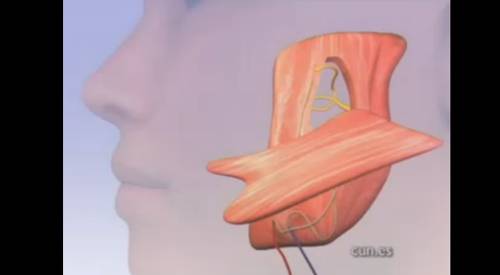 A patient with facial paralysis recovers smile after an operation with graft leg muscle in the face. [Video only available in Spanish]

We have developed various fields with greater specialisation, including microsurgical mammary reconstruction, post oncological reconstruction, facial paralysis reconstruction and aesthetic surgery.".
This aims to restore both the functional and aesthetic features of a part of the face or body which has suffered from changes due to an accident, surgical operation, burn or congenital defect.
Head and Neck
Vascular Anomalies
Craniofacial
Burns
Ear Reconstruction
Plastic Surgery speciality aims to modify a healthy person´s physical features to have a more balanced and attractive facial appearance according to the established beauty norms. Setting out to improve physical features can be congenital or as a result of the ageing process.
Restorative Microsurgery is carried out with the latest generation powerful microscopes and aims to repair blood vessels and nerves.
It makes a large number of both structural and aesthetic reconstructions possible in all parts of the body.
We reconstruct defects, posttraumatic consequences, tumours, burns or upper limb, lower limb, chest and abdomen congenital conditions.
Depending on the defect, local tissues can be transpositioned from other areas of the body.
our

PROFESSIONALS
Restorative and Plastic Surgery
selector carrusel
I'm very happy. I'm currently in the rehabilitation period to improve my facial movements and expressions. I've noticed it improving little by little each day".
Isidoro B.
Patient treated for bilateral facial paralysis
you may

be interested

Learn why the Clínica Universidad de Navarra is different from other hospitals.

Want to participate in our clinical trials? Learn which ones are active.

Know what we do for our international patients