Home >
Dr. Luis Sierrasesúmaga Ariznavarreta
meet

Dr. Luis Sierrasesúmaga Ariznavarreta

Paediatrics Department Specialist
Area of Expertise: Paediatric Oncology
training and

Professional Career

Graduated (1978) and was awarded his doctorate (1989) in Medicine and Surgery from the University of Navarra. He specialised in Paediatrics at the Clínica Universidad de Navarra.

He did a Fellowship at the Royal College of Physicians in Edinburgh in 1996.

He carried out his subspecialty in Paediatric Hemato-Oncology with residencies at the Christie Hospital and Holt Radium Institute in Manchester (UK) and the Roswell Park Memorial Institute in Buffalo (New York, USA). He was awarded the Training Certificate for Bone Marrow Transplant by the State of New York Health Department.
He was the lead researcher on 7 clinical trials with patients.
He has received 15 research grants and 9 awards for his scientific work.
His main line of investigation concerns carcinogenicity of solid childhood tumours and the long term secondary effects of treatments and follow-up care.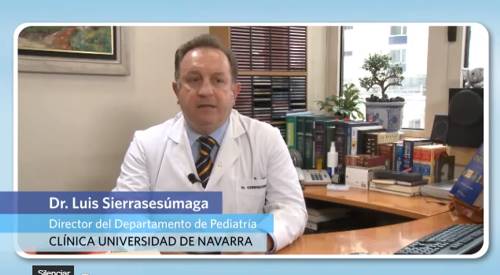 Resultados de curación del cáncer infantil
ACTIVITY
As an educator
Paediatrics Professor at the University of Navarra Faculty of Medicine
Accredited by the ANECA as a Private University Professor
Accredited by the ANECA as an Associate Professor
Expert in Paediatrics at the University of Navarra
As a researcher
He has had more than 140 articles published in national and international scientific magazines.
Author of 85 book chapters and 37 publications relating to continued Paediatrics training.
He has led 11 doctoral theses.
Spanish Paediatrics Association
Basque-Navarran Paediatrics Society
Spanish Society for Paediatric Oncology (AEP section)
Spanish Society for Paediatric Haematology (AEP section)
International Society for Paediatric Oncology (SIOP)
Latin American Society for Paediatric Oncology
Paediatric Visiting Club
European Society for Paediatric Research
Association for Paediatric Education in Europe (APEE)
Navarran Paediatric Association (ANPE)
you may

BE INTERESTED

The Clínica is the spanish private hospital with the greatest technological equipment in one single center.

If you live outside of Spain and you wish to receive care at the Clínica, learn about our services for international patients.

Why we are different from other healthcare centers.
Quality, speed, comfort and results.