Home >
Dr. José Luis Hernández Lizoáin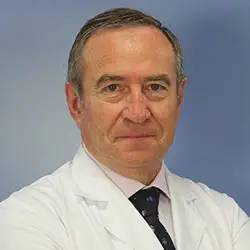 meet

Dr. José Luis Hernández Lizoáin

Head of the General and Digestive Surgery Unit
General and Digestive Surgery Specialist
Area of expertise: Digestion Oncology
training and

Professional Career

Graduated (1976) and was awarded his doctorate (1980) in Medicine and Surgery from the University of Navarra. He became a General and Digestive Surgery (1977-1990) and Paediatric Surgery (1980) specialist.

He is a clinical specialist in the General and Digestive Surgery Unit of the Coloproctology Department. He is the head of the General and Digestive Surgery Unit Research Areas.
Oncological surgery: rectal and colon cancer
Multidisciplinary treatment of colorectal cancer
ACTIVITY
As an educator
Associate professor for the University of Navarra Faculty of Medicine.
As a researcher
In the past few years, he has collaborated in the creation of 20 publications in specialised scientific magazines.
you may

BE INTERESTED

The Clínica is the spanish private hospital with the greatest technological equipment in one single center.

If you live outside of Spain and you wish to receive care at the Clínica, learn about our services for international patients.

Why we are different from other healthcare centers.
Quality, speed, comfort and results.